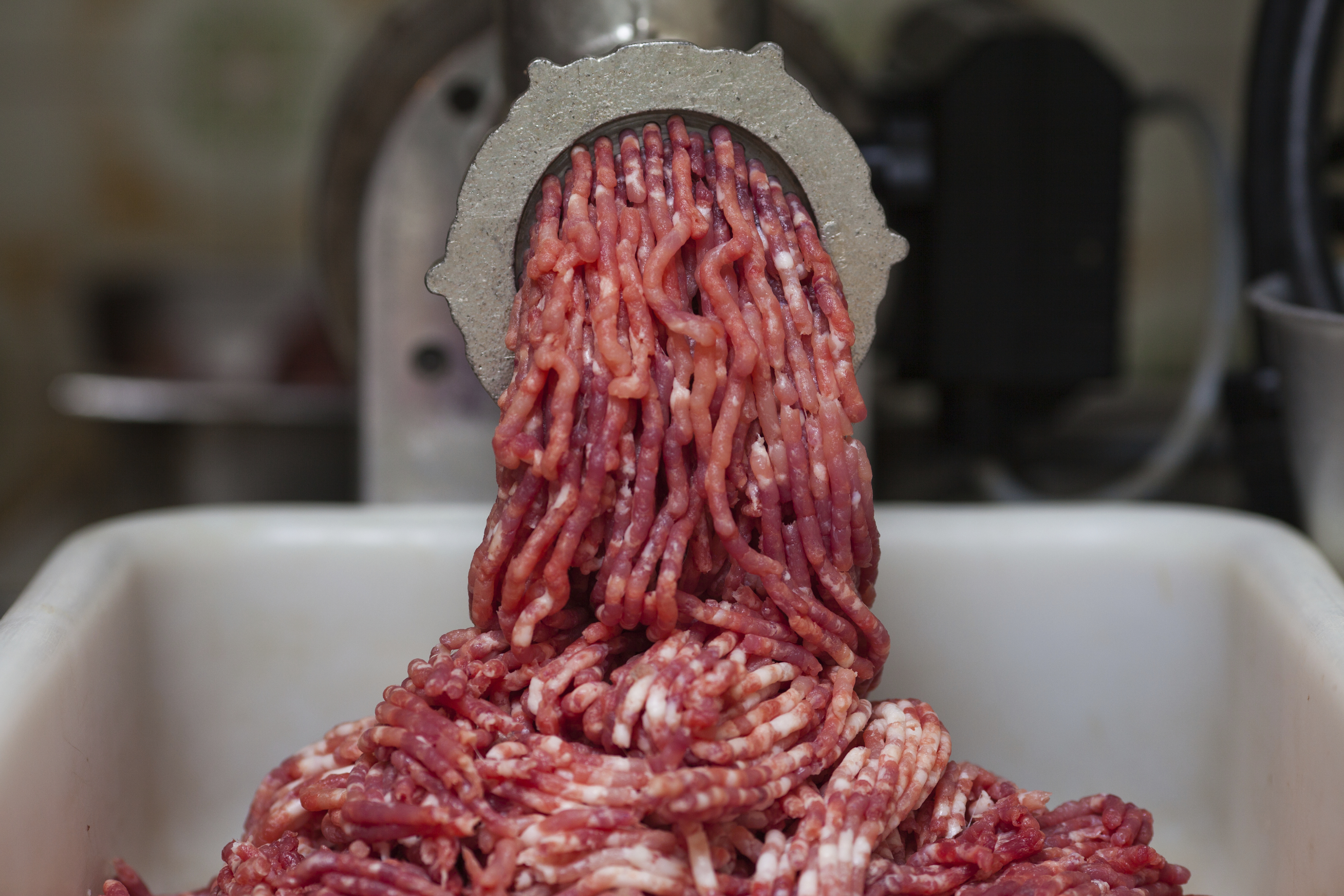 Continuous Inspection
Continuous inspection means that the business's process is inspected every day during operations to ensure they are producing safe food. Continuous inspection is required for any business that wishes to sell their products to other retail outlets such as grocery stores, restaurants, or other food service institutions. In a slaughter processing facility, every animal is inspected to determine that the meat comes from an animal free from signs of disease.
There are two types of continuous inspection:
Federal inspection
Businesses that want to produce and sell their products in other states and/or for export to other countries must be inspected by the United States Department of Agriculture (USDA) Food Safety and Inspection Service (FSIS). These businesses may slaughter their own animals or purchase their products from other FSIS/USDA inspected sources and further process these products under continuous inspection.
Minnesota State "Equal To" USDA Inspection Program or E2 Inspection
Minnesota is one of 27 states currently operating Meat and Poultry Inspection (MPI) programs that are considered at least equal to the federal meat and poultry inspection program (USDA). This means establishments in Minnesota's "Equal To" (E2) program can slaughter animals and process products to sell, distribute, and wholesale to any entity within the state of Minnesota.
Retailers, restaurants, distributors, schools, food shelves and other entities can buy and serve meat and poultry from Minnesota establishments participating in the E2 program. Products from a Minnesota E2 plant contain a State of Minnesota symbol with the phrase inspected and passed, and the establishment number. When you see this, you can be assured that those products were inspected and passed under the same regulations and requirements that USDA uses to ensure the production of safe, wholesome products.  
The Minnesota E2 program allows smaller slaughter and processing establishments to expand their marking potential, work with smaller business within their community, and provide a service to the farmers in their area. It is also a very important part of strengthening and diversifying local food systems, local economic development, and helping consumers learn to know their local farmers.
These plants operate under the requirements as set by the Federal Meat Inspection Act or the Poultry Products Inspection Act. Currently licensed, permitted E2 plants are listed at Minnesota State "Equal To" Plants. (For a listing of USDA inspected plants, contact the Des Moines District office at 1-800-990-9834 or visit the USDA Meat, Poultry and Egg Product Inspection Directory.)
Map of Minnesota Meat Processors
---
Custom Exempt Processors
A custom meat processor is defined in state and federal law as a plant that does not require continuous inspection because they only process meat for the owner of the animal. The meat, poultry, or wild game cannot be sold and can only be consumed by the owner, the owner's immediate family, and non-paying guests. Custom processed meat must be identified "NOT FOR SALE". Businesses that operate under this exemption are inspected by the State Inspection Programs or by FSIS/USDA on a regular basis. However, inspections of these operations are conducted less frequently than operations under continuous inspection.
Wild Game Processing
Because wild game products can only be processed and returned to the owner of the animal (in this case, the hunter or trapper), wild game processing operations are considered custom exempt meat processing operations. Wild game processors may need to obtain a license and custom exempt plant permit, allowing them to process wild game and fowl for the owners of those products. Licensed and permitted wild game processors can also slaughter and process traditional livestock animals for the owners and participate in the Hunter Harvested Venison Donation Program. Some small-scale wild game processors are exempt from the requirement to have a license and permit to operate. For more information, go to Wild Game Processing.
---
Retail Exempt Processors
These businesses buy meat and poultry products from approved inspected sources (either FSIS or state inspected) and then sell these products at retail in their facility. Retail sales are sale to the final consumer. These operations are inspected by state food inspection programs and must meet their state's regulations for producing food.