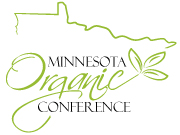 Each year, we host this conference and trade show for farmers and others interested in organic agriculture.
Hope you can join us for this year's virtual conference!
January 6-7, 2022
---
2022 Conference Schedule
Block 1: Thursday, January 6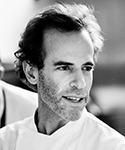 3:00 pm
4:30 pm Breakout Sessions
Block 2: Friday, January 7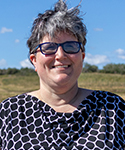 9:30 am
10:45 am Breakout Sessions
Block 3: Friday, January 7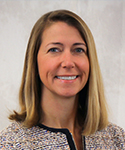 1:30 pm
2:45 pm Breakout Sessions
Your $25 registration fee also allows you to watch the movie Kiss the Ground during the conference, as well as recorded versions of the sessions until the end of January.
---
Note: USDA's new Organic and Transitional Education and Certification Program (OTECP) will cover 75% of the registration fees (up to $200 per year) for education events, including the Minnesota Organic Conference. Contact your local USDA Service Center or call 877-508-8364 for more information on this program.
---
Session Descriptions
Bend Don't Break: Exploring Resilience
When the stress of farming, relationships, and life start to overwhelm you, it's crucial to have strategies to help you cope. In this interactive session, we'll look at ways to help build our resilience to get through difficult times and come out on the other side mentally and emotionally stronger. (Block 2)
Bringing Cows, Covers, and Reduced Tillage into your Organic World
Tom Cotter will help you understand the key components of building healthy soils on your farm. Learn how to implement cover crops with multiple methods of seeding. Discover why livestock are important and how to make them work for you. And find out how to tackle tillage in your system and why less is more. (Block 2)
"Kiss the Ground" discussion
Discuss the documentary "Kiss the Ground" with one of the featured scientists, Dr. Kris Nichols. This is your opportunity to ask questions about the movie and the science behind it. (Block 2)
Market Opportunities: What does it take to produce and sell "Halal" certified meat in Minnesota?
Find out what makes meat halal, who consumes halal meat, and why halal certification is important. There is a large and growing community in Minnesota that prefers fresh and locally raised Halal meat, but more certified production of sheep, goats, beef, and chickens is needed to meet the demand. (Block 1)
Regenerating Soil with Organic, Biologically-Based Practices (Keynote)
Regenerating soil is key to soil health and maintaining functional agroecosystems. Because soil is carbon, hydrogen, and oxygen (organic matter) bound to sand, silt, and clay, Kris Nichols will focus on the key mechanisms to manage carbon flows from the plant to the microbial community. Soil microbes use this carbon to provide energy and building blocks for soil physical, chemical, and biological structure and function. (Block 2)
Resilience through Organic Agriculture: Recommendations for Policy Action
Organic agriculture benefits the economy, environment, and human health, but is often left out of the conversation when it comes to climate solutions, social justice and equity, and economic development. Ariel Kagan and Esteve Giraud will discuss the ways in which organic policy can be improved, how organic ag can contribute to climate solutions, and how rural communities benefit from organic economic clusters. There will also be time for discussion and feedback on how to enhance organic agriculture policy at the state and federal levels. (Block 1)
Science, Community, Story: Social Learning for a Just Perennial Future
Perennial grain crops grown in diverse systems may help equitably nourish people within ecological limits and sustain the soil, water, air, and biodiversity of the ecosphere. To make a just perennial future possible, both scientific research and social learning are needed. This session will explore key concepts, civic science methods, and educational projects that may help build agricultural learning communities. Participants will be invited to hear and share stories about how to repair and make anew our relationships with each other, perennial plants and grains, and the land. (Block 3)
Shipping Containers: Shipping outside the "Box"
The supply chain is pushing agriculture in two very bad directions, causing difficulty with supply inputs and charging more to access your markets. We can keep asking for relief, but have we done all we can to plan and prepare for the future? Join this dialogue about a supply chain that serves your company and moves your products to market. "Local" has never been a better business strategy. (Block 3)
The Buyer's Journey: Digital Tools to Make an Impact
The buyer's journey is critical. It's the path consumers walk from the first time they hear of your brand to the moment they purchase your product or service and become a brand advocate. It's important for small businesses to shorten the journey as much as possible for your buyers (and for you!) Learn the key elements of the buyer's journey and tools you can use to engage them every step of the way. (Block 1)
The Future of Seeds – brought to you by farmers, breeders, and chefs (Keynote)
Join chef, author, and changemaker Dan Barber as he shares what he's learned from farmers over the years and how they inspired him to pursue seeds with flavor and nutrition. Ten years ago, he challenged vegetable breeder Michael Mazourek to build a better squash, which led to the founding of Row 7, a seed company grounded in the notion that deliciousness might just change the world. (Block 1)
Transitioning to an Organic System
Understand the basics of how to successfully plan the transition to an organic system – including rotation and cover crops, fertility inputs, weed control, pest/disease control, equipment, marketing crops, recordkeeping, and the certification process. Learn how Rodale Institute's organic consulting services can provide the technical assistance and support you need to ensure your operation's transition to organic goes as smoothly as possible. (Block 3)
What Drives Consumer Demand for Organic Food Products? (Keynote)
Organic remains one of the most prominent and significant markers of quality in foods in the U.S. In recent years, we've witnessed the advance of organic products into new categories even as organic foods and beverages become more affordable to the mainstream American consumer. Laurie Demeritt will share key insights and trended data from The Hartman Group's latest Organic and Beyond report, which focuses on consumer aspirations, attitudes, and behavior related to organic food products. (Block 3)