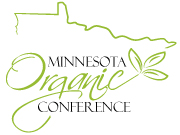 Each year, the MDA hosts this conference and tradeshow for farmers and others interested in organic agriculture. Join us for two days of networking, learning, and great food.
January 9-10, 2020
River's Edge Convention Center
Saint Cloud, Minnesota
Mark your calendar and sign up for conference updates and information.
2020 Sessions and Speakers
Send us your suggestions! Complete the Call for Proposals and Presentations.
Thank you to our 2019 speakers, sponsors, and tradeshow exhibitors:
2019 Sessions and Speakers
View the list of Breakout and Keynote Sessions.
2019 Supporters
See the list of our Exhibitors and Sponsors.