---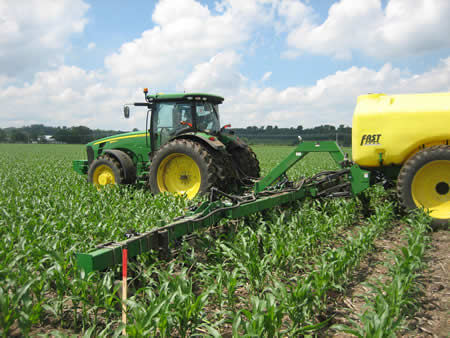 The Minnesota Nutrient Management Initiative (NMI) assists farmers and crop advisers in evaluating nutrient management practices on their own fields.
It is a simple tool that can lead to improved fertilizer efficiency and improved water quality.
Each participating farmer can work with a crop adviser to set up field trials on their farms. After completing plot harvest and submitting the required forms, farmers and crop advisers are reimbursed for their time and receive a summary and analysis of their results.
NMI is for corn grown for grain only (wheat is acceptable in the northwest region). 
Wheat growers in northwest or west central Minnesota are encouraged to participate in the Minnesota Wheat On-Farm Research Network. Contact Melissa Carlson at 952-738-2000 or mcarlson@mnwheat.com for more information.
 
A crop adviser and farmer must enroll in NMI separately in order to receive the full payment. Registration begins the second Tuesday of January each year and closes when the funding limit is reached, or March 15th.
---
Compensation
Farmers and crop advisers are compensated for each field trial. The rate of compensation is higher for those that participate in the Advanced Rate Trial. Due to State contracting policies, individual participant payments are paid in two equal installments (June & December).
Farmer Compensation
| Trial Type | Payment Per Trial | Maximum Number of Trials |
| --- | --- | --- |
|  Field Trial | $1,300 | 1 |
|  Advanced Rate Trial | $1,500 | 1 |
Crop Adviser Compensation
| Trial Type | Payment Per Trial | Maximum Number of Trials |
| --- | --- | --- |
|  Field Trial | $600 | 10 |
|  Advanced Rate Trial | $700 | 10 |
---
Highlights
Nearly 700 on-farm trials established statewide since 2015
Great participation from crop advisers statewide, many have hosted winter meetings to discuss results with participants
Crop advisers used NMI to promote new management strategies and equipment that is available to boost yields and fertilizer efficiency for farmers
Results from the additional advanced nitrogen rate trials will help guide current nitrogen rate recommendations and will be used in the nitrogen rate calculator
Advancements in technology have helped to make field trials easier to install and harvest, minimizing the time commitment
Results and information from these field trials will:
Assist farmers and crop advisers in evaluating current nutrient management practices versus an alternative practice they would like to try on their farm.
Provide an opportunity to compare different nutrient management practices and evaluate economic outcomes.
Assist participants in evaluating practices which can help reduce nitrate-nitrogen losses from fields.
Highlight advanced nutrient management practices farmers and crop advisers are using to improve economic and environmental outcomes.
Individual results will be kept confidential. Statewide results will be summarized for outreach purposes to highlight and promote existing farm practice advancements and BMP adoption in Minnesota.