Bee Kill Investigation
The MDA investigates alleged bee kills. A written complaint must be made to start the process.
Once a written complaint is made, the MDA will send out a team of trained pesticide investigators. The team has expertise in bee handling/colony assessment.
Our investigators take samples of live/dead bees and other materials to determine the presence of pesticides, colony pests and overall colony health. The MDA also tries to determine the extent of pesticide use in areas adjacent to hive locations by contacting pesticide dealers, growers and applicators in the area.
Samples are brought to the MDA lab where staff look for pesticide residues. A USDA lab may also analyze samples.
The Bee Informed Partnership evaluates honey bee samples for the mite, Varroa destructor, the fungal pathogen Nosema spp. and a set of bee viruses that cause adverse effects. The Varroa mite is known to deliver viruses and reduce bee longevity while the Nosema spp. invades a bee's gut causing adverse effects.
We then review all the evidence collected and attempt to find out what caused the bee kill. Staff also assess the underlying health of the bee colony.
If the MDA determines a pesticide has been misused, a penalty may be issued. Beekeepers may also be eligible for compensation.
From 2015-2020 the MDA conducted 19 bee kill investigations,10 were acute pesticide poisonings and nine were not (Fig 1). Of the 10 acute pesticide poisonings, three led to compensation for beekeepers (Fig 2).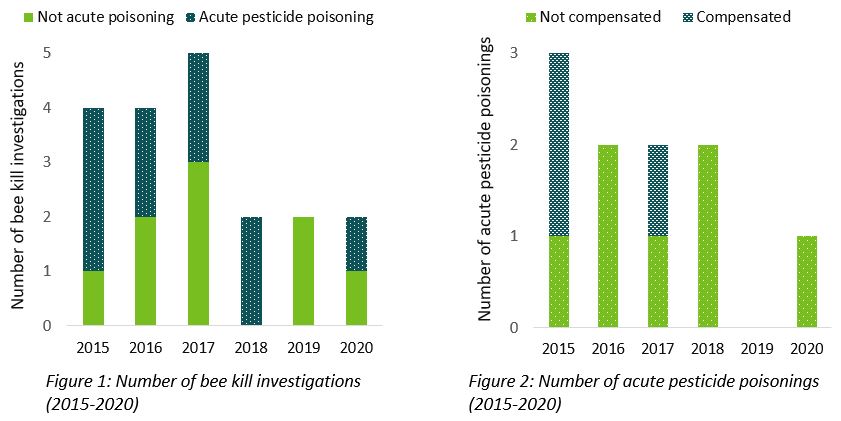 Annual Summaries of Bee Kill Complaint Investigations
Bee Kill Compensation
The state allows for compensation when an MDA investigation determines there has been an "acute pesticide poisoning" of bees. However, beekeepers must be registered on BeeCheck in order to be eligible for compensation. There is no fee for registering apiary locations on BeeCheck. Beekeepers must register the location of their hives yearly in order to keep an active presence on the registry program.
NOTE: Beekeepers can select during the registration process whether or not their apiary location will appear on the public map, or if they are only visible to applicators registered on BeeCheck. Registered applicators participating in BeeCheck an view all apiary locations (public map viewing and hidden sites), whereas non-registered applicators will not be able to view hidden apiary sites.
Visit BeeCheck to register.
 
The Compensation Process
In consultation with a number of stakeholders, including national and local academic experts, as well as commercial and hobbyist beekeepers, an "acute pesticide poisoning," for purposes of the law must meet the following:
the event must be reported to the MDA;  
dead bees collected in/around the honey bee hive have pesticide residues present; and
at the time of investigation there is likely 100 or more dead bees in/around the hive, for every live frame of bees quantified. If there are three or fewer frames of bees present, a minimum of 300 dead bees need to be collected; if there are 10 or more frames of bees present, a maximum of 1,000 dead bees need to be collected. 
Counting the number of individual dead bees is performed by a volumetric measurement. MDA uses state and federal laboratories to analyze and evaluate pesticide exposure and residue.
Compensation for an "acute pesticide poisoning" may be made at a "fair market value" for an affected colony when a beekeeper submits a claim form to the MDA. 
The MDA incorporates information from USDA fair market value, which is established by academic experts, and the MN Bee Kill Advisory Team when determining compensation. Compensation is intended to help mitigate monetary losses including the loss of labor, honey, pollination services, equipment and bees. The "fair market value" is reevaluated on an annual basis.
The USDA has established average fair market value at $200 per hive for the program year 2021, and $210 for the program year 2022. For more information visit: USDA Farm Service Agency Fact Sheets (PDF).
When an alleged pesticide related bee kill is reported to the MDA, the complainant has the right to submit a compensation claim form for "acute pesticide poisonings" of bees. On this form, the complainant may request and justify an upward compensation adjustment. After our agency completes the investigation, the Commissioner of the MDA reviews the case and awards compensation, when they deem appropriate.  Requests for upward adjustments to compensation will be considered in consultation with academic experts and beekeepers. Claim forms can be downloaded. See Forms & Program Resources.
View a graphical Flow chart of Investigation Process for Alleged Pesticide Related Bee Kills as Related to Compensation (PDF)
---
Join the Pollinator List Serve to receive email updates on topics related to pollinators and pesticides.