FieldWatch, Inc., is a non-profit company that promotes and administers the DriftWatch, CropCheck, BeeCheck, and FieldCheck programs in conjunction with the MDA. DriftWatch and BeeCheck are online registries that allow specialty crop producers and beekeepers to communicate the location of their pesticide-sensitive sites to pesticide applicators by marking them on the FieldWatch map. CropCheck was added more recently to allow growers of some field crops to mark their fields on the map and indicate their herbicide sensitivity. Pesticide applicators can then use the FieldCheck program to view this information and take precautions to avoid injury due to spray drift. This system is Google Maps™ based and is voluntary, free, and fairly easy to use.
View the current map of registered sensitive sites in Minnesota
Additional resources, including videos and user guides, to assist with registration and use of the program are available on the FieldWatch Resources page.
 
Annual Renewal: Crop producers and beekeepers must renew their locations annually to keep the map up to date. Renewal notices are sent to producers to remind them to renew and update their accounts. When renewing, much of the information is carried forward and does not have to be reentered.
---
DriftWatch-CropCheck
The DriftWatch-CropCheck programs provide a means for crop producers to communicate information about their crop locations and herbicide sensitivity to pesticide applicators.
The programs allow specialty crop growers to mark the boundaries of their fields on the FieldWatch map. Specialty crops currently listed in the program's crop menu include:
beehives
Christmas trees
fruits
grapes
hops
non-specialty certified organic
non-specialty transition to certified organic
nursery crops
pumpkins or melons
tomatoes
vegetables
other*
*If "other" is selected, there is a place to specify the crop.
The development of herbicide tolerant crops has resulted in applicators not being able to distinguish herbicide sensitive and tolerant crops based on a visual inspection. Growers of non-herbicide tolerant field crops in Minnesota expressed interest in posting their crop locations and herbicide sensitivities on the FieldWatch map. As a result, in 2022, corn, cotton, rice, and soybeans were added to the DriftWatch-CropCheck crops menu. Herbicide tolerances for these crops are listed by active ingredient.
Herbicide tolerance options for corn include 2,4-D, ACCase (sethoxydim), conventional/non-GMO, glufosinate and glyphosate.
Herbicide tolerance options for soybeans include 2,4-D, conventional/non-GMO, glufosinate, glyphosate HPPD (mesotrione), Isoxaflutole, STS (sulfonylurea).
Growers select all tolerances that apply to their crop. Once posted on the FieldWatch map, applicators can select the icon for a given field to obtain crop, herbicide tolerance, and producer information.
DriftWatch-CropWatch are not intended for noncommercial sites or home gardens. Sites must be at least half an acre in size.
For more information refer to the FieldWatch User Guide: How to Register Your Crops and Beehives in FieldWatch.
---
BeeCheck
BeeCheck is a version of DriftWatch for beekeepers, who do not also have other specialty crops, to mark the locations of their hives. BeeCheck is simpler and requires less information input. This greatly speeds the posting process for beekeepers with large numbers of hives. BeeCheck can be utilized by any size commercial or hobby beekeeper. Beekeepers can choose to have their hives only appear on the map for registered pesticide applicators and not for the general public, if theft or vandalism is a concern. Registration with BeeCheck is required for beekeepers to be eligible for compensation should a bee kill incident occur due to pesticide exposure. Bee kill compensation is considered after a bee kill incident has been investigated, and it has been determined that acute pesticide poisoning has taken place. 
Beekeepers must register the location of their hives yearly in order to keep an active presence on the FieldWatch map.
For more information refer to the FieldWatch User Guide: How to Register Your Crops and Beehives in FieldWatch or view the video below.
---
FieldCheck
FieldCheck is a service that provides pesticides applicators with access to all registered FieldWatch sites. Since new sites can be added during the growing season, applicators need to check the map at the time of application. In addition, they can choose to receive email updates when new sensitive sites are added in their area of operation.
For more information refer to the FieldWatch User Guide: How to Register as an Applicator in FieldWatch. 
For applicators that also operate in neighboring states, note that many states also use FieldCheck. States highlighted in green use FieldCheck.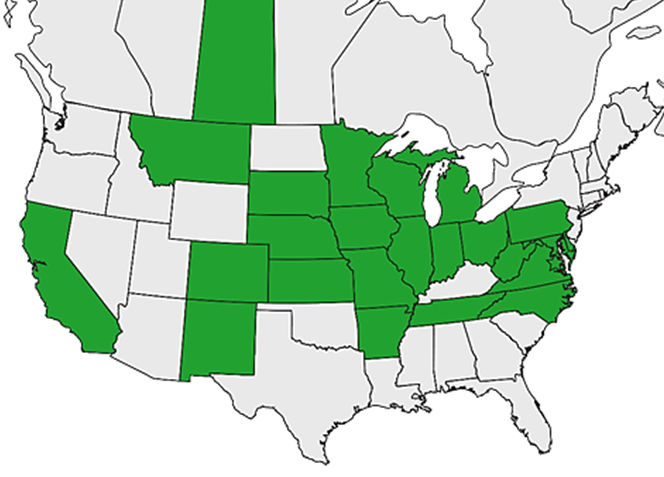 North Dakota uses a different system for mapping pesticide sensitive sites. Applicators that operate there should also become familiar with the North Dakota Bee Map.
---
Mobile Apps
FieldWatch offers two mobile apps which facilitate accessing specialty crop information. The FieldCheck app allows pesticide applicators to easily locate registered  crops and beehives from their mobile device or tablet. Information about a desired location can be obtained by entering an address or through GPS.   The new BeeCheck app allows beekeepers to register and map their hives from the field. This makes changing hive locations easier and faster. The apps are free of charge for users registered with FieldCheck or BeeCheck. The apps are available for both Android and Apple devices.

---
Updates and Articles
The services provided by FieldWatch expand and change over time to meet the needs of users. These changes are described in newsletter articles sent through various channels to keep crop producers, beekeepers, and pesticide applicators up to date.