The MDA and other regulatory agencies conduct routine surveillance for both milk and meat residues on an ongoing basis.  Regulatory staff participate in both State and Federal programs designed to monitor our food supply for residues, provide education to farmers, and investigate residue incidents.  Specific activities include:
On-Farm inspections of dairy producers, including drug storage and labeling practices
Inspections at feed manufacturers to ensure veterinary drugs delivered in animal feed have the proper documentation and handling
Sampling and testing of every load of milk from every dairy farm
Sampling and testing of finished dairy products, such as bottled milk
Sampling and testing of animals in slaughter plants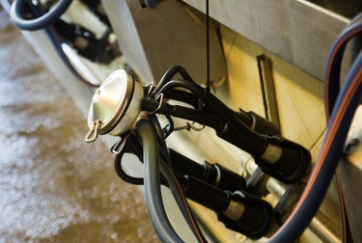 When residues are found, livestock producers, feed mills, and veterinarians can face stiff consequences.  These range from monetary penalties to losing their permission to sell milk or meat, either temporarily or permanently.  MDA may even suspend or revoke licenses from feed mills or veterinarians who are not handling veterinary drugs responsibly and according to the requirements.