Minnesota's Drug Residue Prevention Program (DRPP) outreach team partners with producers, livestock veterinarians, and industry stakeholders to prevent veterinary drug residues in meat and milk products. Our goal is to promote antibiotic stewardship through proactive education and quick response to occurrences of positive residue results.
Meet the DRPP Outreach Team and learn more about their work!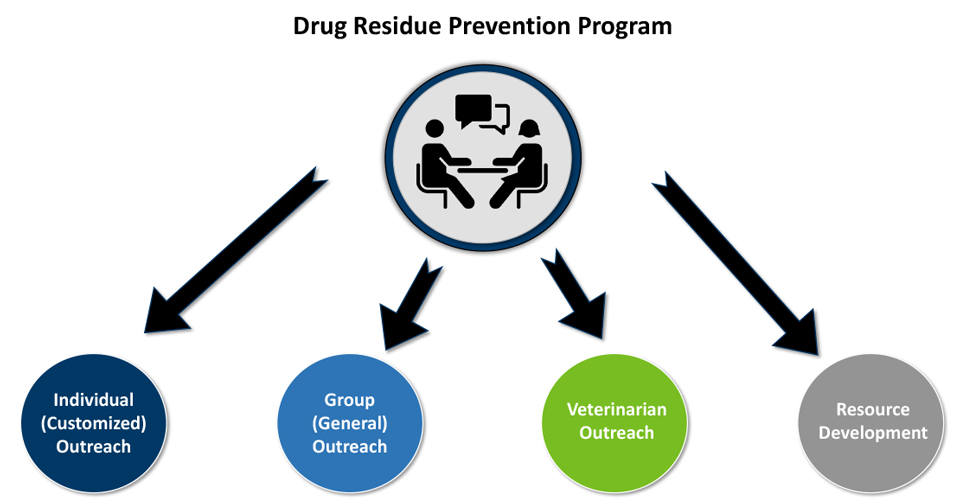 Outreach Veterinarians (OVETs) perform customized outreach by visiting with farmers one-on-one. Farmers can sign up for these visits as a proactive measure to protect themselves against drug residues or a farmer may be contacted for a visit as a result of a drug residue violation in tissue or milk. Their visit with the OVET consists of a discussion about on-farm practices, including drug use and treatment protocols and customized recommendations for what farmers can consider to improve drug residue prevention practices on their farms. Connect with one of the contacts listed on this page to set up a visit!
Please note - OVETs are not meant to replace the farm veterinarian, but rather to help strengthen the Veterinary-Client-Patient Relationship (VCPR) by identifying potential problem areas for the farmer to discuss with his/her veterinarian.
Outreach is also carried out at events and through other avenues that allow communication with many people at once. You may see the DRPP team at conferences, state and county fairs, teaching 4-H and FFA participants, and teaching students anywhere from elementary school all the way up to graduate level courses. Additionally, we are expanding efforts to educate people virtually through development of online trainings and videos! Check out the MDA Events Calendar to look for upcoming events with the DRPP team.
COVID-19 update - Given the current pandemic, there are limited opportunities for in-person events at this time. We hope to be back with more events in the future!
Yes! Veterinarians are required to attend continuing education courses to make sure they stay up-to-date on current veterinary practices. DRPP Outreach Veterinarians (OVETs) work with practicing veterinarians throughout the state of Minnesota to improve their knowledge, specifically on why drug residues are happening in the field. This, in turn, helps veterinarians guide their clients on how to use drugs appropriately on their farms. OVET's meet with veterinarians one-on-one, in-person, and also attend conferences or other events that would allow for interaction and conversation on the topic.
Yes! We have printable fact sheets, record keeping booklets, signs, and more. Visit Drug Residue Prevention Resources for our producer and veterinarian resource libraries. Many of these resources were developed as a result of talking with farmers about their needs in the field. If you are looking for resources, have a suggestion on how to improve an existing resource, or have an idea for a new resource, please reach out to one of the contacts listed on this page!