The AgBMP Loan Program is a water quality program that provides low interest loans to Minnesota farmers, rural landowners and agriculture supply businesses. The purpose is to encourage agricultural Best Management Practices that prevent or reduce runoff from feedlots, farm fields and other pollution problems identified by the county in local water plans. Private and cluster septic system installations, upgrades or repairs within Minnesota are eligible for AgBMP funding.
The AgBMP Loan Program:
Helps landowners comply with water related laws or rules;
Provides funding in all counties; and
Can be used with state and federal cost share or other sources of funding.
Approval Process:
The borrower must do all the following steps and in any order.
A borrower must meet with their local county government contact to propose a project or purchase that can help maintain or improve water quality. If the borrower's project or purchase meets state and county eligibility requirements the county may approve the project or purchase.
The borrower must meet with their local lender to verify their credit for a loan and to see if the lender is willing to work with the AgBMP loan program.
The borrower must purchase or complete the project or practice.  
Once all three of the above steps are completed the borrower then will need to take their approved AgBMP application form with any of the following; project receipts, invoices or equipment purchase orders to their local lender to process the loan.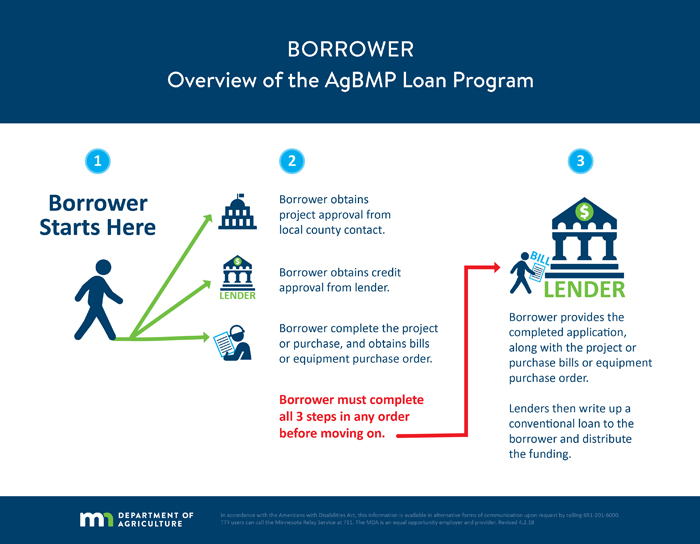 Who Is Eligible?
Anyone for Septic work: Private and cluster septic work are eligible projects for any location within Minnesota.
Water quality cooperatives as defined in Minnesota Statute 115.58, sub. 1(d).
Groups or organizations established to manage a shared (cluster) septic system.

In a cluster system, landowners share one large central drain field, which avoids the need for landowners to replace septic systems on an individual basis.

Farmers: anyone who reports any farm income on their federal tax forms.
Rural landowners: defined by the local government. Rural definitions can be based on administrative, land use, or economic concepts.
Agriculture supply businesses: any businesses that provide materials or services to farmers.
Service must provide primary water quality benefits.
Examples include custom manure applicators and variable rate technology for fertilizer application.
Examples of Eligible Activities but not a complete list of all possibilities. 
The AgBMP loan program is able to fund ANY ACTIVITY OR PRACTICE THAT HELPS TO IMPROVE WATER QUALITY, OR THAT HELPS MAINTAIN HIGH WATER QUALITY. The following shows a few examples for each category. There are more projects and practices available than listed under these categories.
Agricultural waste management projects that manage or reduce the inflow of agricultural waste into surface and groundwater systems
Bedding management equipment or projects
Buffer strips for feedlot waste runoff
Clean water diversions for feedlots
Composting structures
Diet management and control
Feedlot improvements
Livestock paddocks or exclusions
Manure handling, loading, transfer, agitation, pumping or spreading equipment
Manure storage structure construction, expansion or repair (liquid or solid)(new or used)
Manure storage abandonment
Milk house waste storage or treatment
Nutrient management plans
Odor control
Water conservation or reuse
Soil testing
Structural erosion control measures intended to help reduce soil erosion which adversely affects water quality
Buffer strips on rivers or streams with erosion issues or nutrient channeling
Erosion control projects
Sediment and water control basins
Seeding for buffers or areas that reduce erosion issues
River bank or shoreline stabilization
Terrace
Tile practices that reduce erosion issues
Waterways - general
Tillage equipment to assist with nutrient management or help manage erosion
Planting or planting-related equipment for nutrient or residue management
Tillage equipment for manure or nutrient management or incorporation
Tillage equipment that helps with residue management to help manage erosion
Precision agriculture technology utilized as a component of an approved practice
Any septic systems, including individual or cluster home sewage treatment systems
New septic systems
Septic system upgrades or repairs
Septic cluster systems
Connection or repair to central sewer
Privy and tanks
Septic pumping, application and hauling equipment
Other projects or practices
Cover crops
Alternative energy
Brownfield restoration
Chemical application or containment systems
Chemical irrigation control
Floodplain protection and connections
Irrigation management BMP
Marina nonpoint control practice
Ring dike
Silvicultural practice
Stormwater diversion
Timberstand improvement
Urban nonpoint control practice
Variable rate technologies
Well replacement, filtration or treatment equipment
Well sealing
Connection to central water
Wetland restoration and protection
Windbreaks to prevent erosion
---
Ineligible Activities
AgBMP loans are meant to encourage water quality protection and may only be used to solve existing water quality problems.
The following are ineligible for AgBMP Loans:
Tractors
New construction projects that do not improve existing water quality
Re-financing of projects that are already completed with existing lender conventional financing
Manure handling equipment or feedlot improvements on feedlots with more than 1,000 animal units that are not in the Mississippi watershed district. (Feedlot limits are determined by animal units, not head.)
Activities for any operation that has a court ordered filing brought against them to implement.
(Notices of violation do not affect a project's eligibility.)
Loan Terms
Loan amounts are limited to $200,000 to any one individual or project.
Borrowers may have multiple outstanding loans. However, the aggregate sum of all Ag BMP loans may not exceed the $200,000 principal balance maximum.
Example fees include: insurance, mortgage handling, filing, default and delinquency, and yearly maintenance fees.
Maximum loan term length is 10 years.
The maximum interest rate is 3 percent plus other normal and customary charges.
The frequency and number of payments are flexible and are negotiated with the lender.
The county and local lender may set additional terms and requirements for eligibility of projects.
Comparison of Typical Interest Paid on 3% and 6% loans for 5 to 10 years.

| Years | Loan Amount | Total Interest Paid at 3% | Total Interest Paid at 6% | Cost Savings |
| --- | --- | --- | --- | --- |
| 5 | $10,000 | $918 | $1,870 | $952 |
| 5 | $25,000 | $2,294 | $4,675 | $2,380 |
| 10 | $50,000 | $8,615 | $17,934 | $9,319 |
| 10 | $100,000 | $17,231 | $35,868 | $18,637 |
Local Government and Lender Contacts can be found by clicking on the local contact map shown below.
Call your local county offices to learn about specific local application procedures. (If your local bank is not on the list, you may ask them to contact us to become an AgBMP lender.)