Reciprocity allows persons residing and certified and credentialed in one state to be certified in another state without being required to pass additional certification examinations.
In Minnesota, a person must be licensed by the MDA before applying pesticides for hire or applying a restricted use pesticide (RUP). Reciprocity streamlines this license process.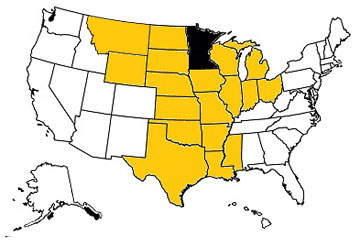 The MDA has reciprocal agreements with states adjacent to Minnesota: North Dakota, South Dakota, Iowa and Wisconsin.
In addition, the MDA has reciprocal agreements with Arkansas, Illinois, Indiana, Kansas, Louisiana, Michigan, Mississippi, Missouri, Montana, Nebraska, Ohio, Oklahoma, Texas and Wyoming.
These agreements result from an evaluation and acknowledgement of equivalent applicator certification between Minnesota and another state where comparable use categories exist. 
Reciprocity allows licensed/certified persons who are not residents of Minnesota to apply for a Minnesota Pesticide Applicator license without additional testing where comparable categories exist. Minnesota applicators can use reciprocity to apply credentials in other states.
The applicator must complete all state specific requirements before a license is issued.
Reciprocity is based on State of Residence; changing State of residence will affect a reciprocal license. A driver's license or other proof is needed to show current state of residence. 
Applicators licensed through reciprocity who move to Minnesota must complete a recertification workshop in Minnesota prior to renewing the license in subsequent years, or take the Minnesota certification exams. An applicator who fails to recertify (attend a workshop) as required must take certification exams and pay a retest fee.
---
Steps to apply for a  Pesticide Applicator License from a State WITH a Reciprocal Agreement with Minnesota
Pesticide Applicator License - Provide a legible copy of the front and back of resident state pesticide certification or license showing categories and expiration date.
 
Driver's License - Provide a legible copy of a drivers license or other document that identifies your legal state of residence, this must be the SAME state as your pesticide license.
 
Reciprocal Acknowledgement Form- Sign the reciprocal acknowledgment form indicating that you have read and are aware of the provisions of the Minnesota Pesticide Control Law, will comply fully, and know the consequences for non-compliance. This must be signed by the applicator. (See "Reciprocal Licensee/Acknowledgment of Minnesota Pesticide Control Law" under "Forms + Resources")
 
Applicator Form and Payment- Complete a NEW Minnesota Department of Agriculture application form. Application and surcharge fees are non-transferable and nonrefundable.

Apply Online
Online Licensing and Payment Options
Email additional information to Pesticide.Licensing@state.mn.us (copy of driver's license, copy of home-state pesticide license showing categories and expiration dates, reciprocal acknowledgement form)

Apply By Mail
Commercial or Non commercial Pesticide Applicator License Application form (see form under "Forms + Resources") or
Structural (Journeyman only) Structural Pest Control Applicator form (see form under "Forms + Resources")
Financial Responsibility- Provide Financial Responsibility Requirements if applying for a Commercial or Structural License Type. See Financial Responsibility Requirements
---
Renewal
Renewal notices will be mailed to applicators before the license expires at the end of the year.  Renewals must be received by the designated date or a late fee will be assessed.
An applicator certified via reciprocity must:
annually complete a Minnesota renewal application, 
pay the application fee, these fees and surcharges are non-transferable and nonrefundable.
provide a copy of the resident state certification and licensure with use categories, and
submit a legible copy of a driver's license or document showing state of residency.
---
State Pesticide Licensing Contacts in Reciprocal States