The Manufactured Food Program licenses and inspects food manufacturers, food warehouses, and food brokers located in Minnesota.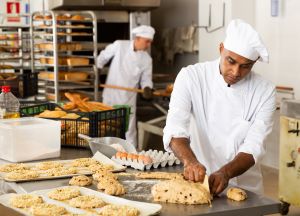 Wholesale food processors or manufacturers are firms that process or manufacture raw materials and other food ingredients into food items, reprocess food items or package food for sale to others for resale.
Products or processes regulated by the Manufactured Food Program include, but are not limited to, bakeries (cookies, cakes, bread, donuts, pies), low acid or acidified processors (canned vegetables, pickled vegetables, BBQ sauce, salad dressing), fresh cut produce, coffee roasters, beverage processors (bottled water, juice, pop, energy drinks), alcohol processors (beer, wine, distilled spirits), fish/seafood processors (pickled herring, smoked fish, shrimp), dietary supplements, food salvors, vegetable freezing plants and ambient, refrigerated and frozen food warehouses.
There are two other divisions with the MDA that cover meat and dairy products.
Wholesale food handlers predominantly hold food and sell to other businesses for resale either from a permanent location, a permanent location with delivery vehicles, or from a mobile unit only.  An example of a permanent structure is a building. Examples of wholesale food handlers are
Food brokers are firms that buy and sell food and who negotiate between a buyer and a seller of food, but who at no time have custody of the food being bought and sold.
For additional information on licensing requirements, please visit the MDA Licensing Wizard.
The Manufactured Food Program has a team of food safety inspectors that conduct unannounced inspections. Inspectors conduct risk-based inspections to assess the safety of the food as it relates to public health and compliance with applicable regulations. Inspections include a review of the firm's food safety plans, physical facilities, process flow, sanitation, allergen controls, supply chain, food safety monitoring records, and employee training. Inspectors may collect investigative samples of food, water, or environmental samples during inspections to support their risk-based inspections.  Samples are analyzed by the MDA's Laboratory Services Division.  
Partnership Agreement with the FDA
The MDA Food and Feed Safety Division (FFSD) signed a Partnership Agreement with the US Food and Drug Administration (FDA) in March 2022. This Partnership Agreement will enhance Domestic Mutual Reliance to enable the FDA and state agencies with comparable regulatory public health systems to rely on, coordinate with, and leverage each agency's work, data, and actions to meet the public health goal of a safe national food supply. Additional information can be found on the FDA's Partnership Agreement website and at Domestic Mutual Reliance Work in Human and Animal Food West Division 1.