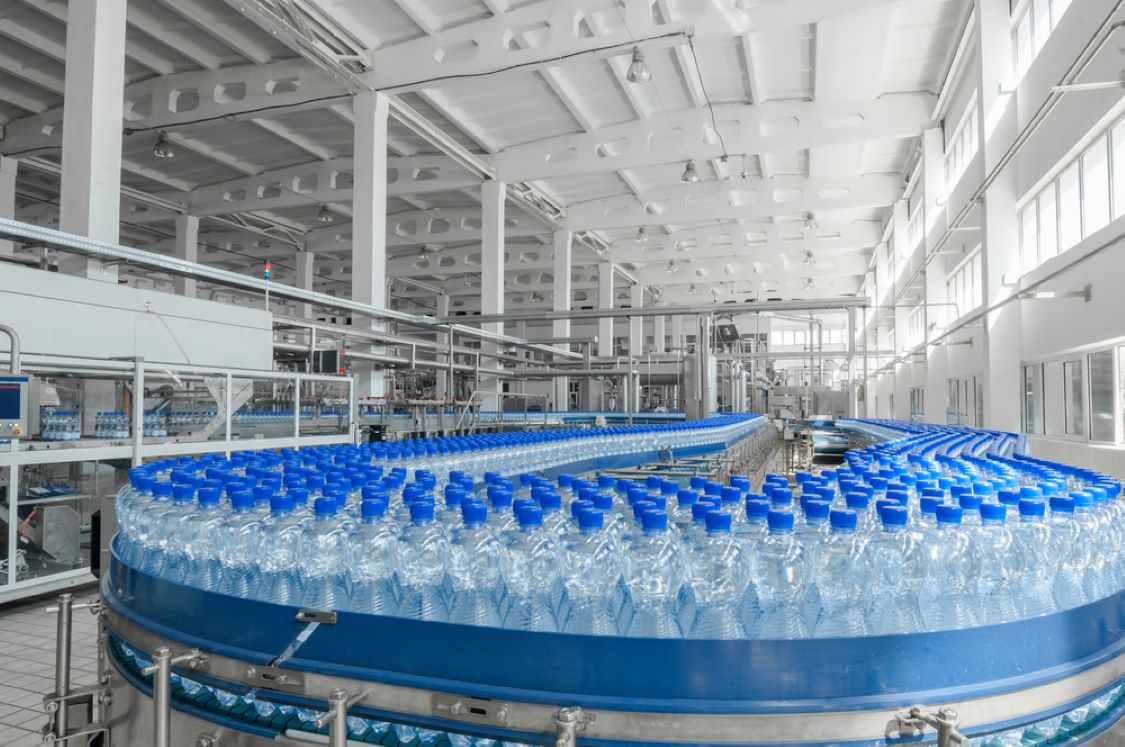 The United States Food and Drug Administration (FDA) has set Current Good Manufacturing Practices (CGMPs) specifically for bottled water. In addition, the MDA also enforces several Minnesota Rules for bottled water manufacturers.
Both the FDA and the MDA require bottled water producers to:
Process, bottle, hold, and transport bottled water under sanitary conditions
Protect water sources from bacteria, chemicals, and other contaminants
Use quality control processes to ensure the safety of the water
Sample and test both source water and the final product routinely for microbiological and chemical contaminants
Approved Source: a source of water, whether from a spring, artesian well, drilled well, municipal drinking water supply, or any other source, that has been inspected, and the water sampled and analyzed, and found to be safe and of sanitary quality
Bottled Drinking Water: water that is sealed in bottles, packages, or other containers, and offered for sale for human consumption
Multiservice Containers: containers intended for use more than once
Operations Water: water delivered under pressure to a plant for washing of containers, hand washing, plant and equipment clean-up, and general sanitation
Primary Container: the immediate container into which the product water is packaged
Product Water: processed water used by a plant for bottled drinking water
Single-Service Container: a container intended for one-time use
Minnesota Rules state before construction or major remodeling of a bottled water plant, or when an existing structure is converted to use as a bottled water plant, properly prepared plans and specifications for construction, major remodeling, or conversion must be submitted to the department for review. The plans and specifications must show the proposed layout, arrangement, mechanical plans, construction materials of work areas, and the type and model of proposed fixed equipment and facilities. The department will treat the plans and specifications as confidential or trade secret information according to law. Plans and specifications will be reviewed to determine whether they meet the requirements of the state statute. A bottled water plant may not be constructed, extensively remodeled, or converted except according to plans and specifications reviewed by the department as specified within statutory authority. 
Bottling room must be separated from other plant operations, with tight walls/ceilings, and self-closing doors
Conveyor openings must not exceed size required for the passage of containers
Adequate protection to prevent contamination of water and system if not processed in a sealed system under pressure
Adequate ventilation provided to minimize condensation in processing, bottling, cleaning, and sanitizing area
Washing and sanitizing of containers performed in an enclosed room or mechanical washer to protect against contamination of sanitized containers
Rooms handling, processing, or holding product water may not open into rooms for household use
Product water and operations water shall be from an approved source, properly located and operated, and of adequate sanitary quality at all times
Air under pressure directed at product water or materials must be free from oil, dust, rust, excessive moisture, or foreign materials, and shall not affect the bacteriological quality of the water, the odor, flavor, or color 
Locker and lunchrooms must be separate from plant operations and storage areas, and must have self-closing doors, and be maintained and clean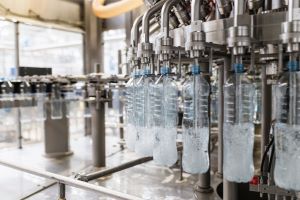 Product water contact surfaces of all containers, pipes, utensils, and equipment used in holding, processing, or handling product water must be cleaned and sanitized, inspected by plant personnel for sanitation, and re-cleaned and sanitized when necessary.
After cleaning, all containers, equipment, and utensils must be stored and transported to assure drainage, and to protect from contamination.
Single-service containers and caps must be purchased and stored in a clean, dry area until use.
Filling, capping, closing, sealing, and packaging must be done in a sanitary manner to protect the drinking water from contamination.
Equipment and utensils, including all collection and storage tanks, piping, fittings, connections, bottle washers, fillers, cappers, and other equipment used to store, handle, process, package, or transport product water must be suitable for their intended use, and constructed of non-toxic, non-absorbent materials which can be adequately cleaned and sanitized. Storage tanks must be constructed to be adequately closed to exclude foreign material, and must be adequately vented.
All water treatment must be done in a manner so as to be effective in accomplishing its intended purpose (UV, ozone, RO, ion exchange, etc.), and shall be performed in and with equipment that will not adulterate the bottled product
Records must be maintained including the type and date of physical inspections of the conditions, performance, and condition of the water treatment equipment
Multiservice primary containers must be adequately cleaned, sanitized, and inspected just prior to being filled, capped, and sealed
Mechanical washers must be inspected as often as necessary to ensure adequate performance. Records of washer inspections, maintenance, conditions found, and performance must be maintained
Multiservice shipping cases must be maintained so as to not contaminate the primary container holding the product water. Cleaning and sanitizing solutions must be tested as often as necessary to maintain performance, and records of these tests must be maintained. Each unit or batch from a continuous production run must be identified by a production code that identifies the batch and day of production. The plant must maintain records of the kind of product, volume produced, date produced, lot code, and distribution of finished product to retail and wholesale outlets. Filling, capping, and sealing must be monitored, and performance recorded. All containers and closure must be inspected for contamination
All testing must be done by methods approved by the government agency or agencies having jurisdiction
Records must be maintained of the date of sampling, type of product sampled, production code, and test results
Records, including source and supply water approvals, must be maintained at the plant for at least two years
Source Water
Samples of source water from each source in use by the plant must be taken and analyzed as often as necessary, at a minimum of once/year for chemical contaminants and once every four years for radiological contaminants
Source water from other than a public system must be sampled and analyzed for total coliform at least once/week (follow-up testing is required for any positives to identify if E. coli is present)
Firms that use a public water system for source water may substitute public water testing results showing compliance with all provisions of the United States Environmental Protection Agency (EPA) National Primary and Secondary Drinking Water Regulations for chemical contaminant
Firms that do not use a public water source may reduce the frequency of their testing of that source, as well as the number of chemicals they test for, if the firm can document that such reduction is consistent with a state-issued waiver under the EPA regulations
Product Water
Samples of product water must be taken after processing and prior to bottling, and analyzed as often as necessary to assure uniformity and effectiveness of processing performed by the plant via an approved method
A bacteriological swab and/or rinse count should be made from at least four containers and closures just prior to filling and sealing, and conducted at least once every three months
Finished Product Water
Bacteriological analysis for total coliform on a representative sample must be taken from a batch or segment of a continuous production run for each type of bottled water produced during one day's production run at least once/week. For chemical, physical, and radiological testing, a representative sample must be taken from a batch or segment of a continuous production run for each type of bottled drinking water produced during a day's production at least once/year.