Are you a farmer looking to sell to schools? 
See the list of 2023 Farm to School Grantees and contact Kate.Seybold@state.mn.us for more information.
---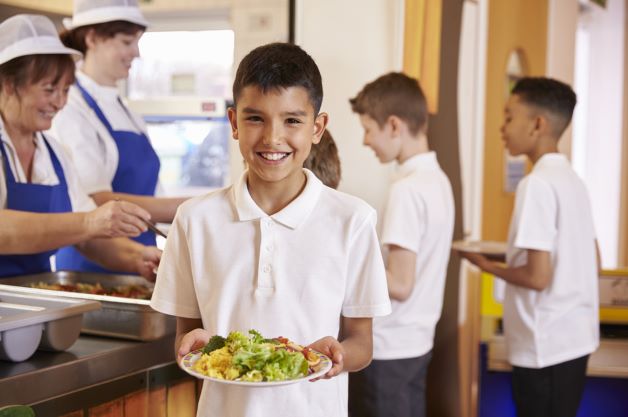 Farm to School Grants support Minnesota school districts that want to purchase and serve Minnesota agricultural products.
In Fiscal Year (FY) 2023, we anticipate awarding up to $3.5 million to reimburse school districts for purchasing Minnesota grown and raised foods used in school meal programs.
School districts may apply for USDA funding for local food as well as AGRI funding for equipment through one of these programs:
Farm to School First Bite Mini Grant

First Bite Mini Grants provide funding for those with little or no experience with local procurement as part of a Farm to School program. This grant is intended to be an intentional learning process for the applicant. First Bite Grant recipients from FY 2020 and 2021 must apply for a Full Tray Grant.

Farm to School Full Tray Grant

Full Tray Grants are for those with some Farm to School experience. The amount of funding the applicant is eligible for is determined using a formula based on meals served in October 2021.

Second Helping food funds for Full Tray applicants

Full Tray applicants can indicate if they would like to be considered for additional food funding (beyond their requested Full Tray formula-based amount) if we have remaining funds available after initial grant awards are made. Second Helping food fund requests are capped at $50,000 per school district. Receiving a Full Tray Grant does not guarantee the award of Second Helping food funds. First Bite Grant applicants are not eligible for Second Helping Food Funds.

Additional funding for equipment purchases

Applicants for a First Bite or Full Tray grant may also apply for up to $35,000 to purchase equipment in addition to funds for food. The equipment portion of the grant request must include a 1:1 cash match and support Farm to School initiatives. Learn more by reading the Request for Proposal for each of the grants.
2023 Farm to School Grantees
These are the schools that received either a First Bite or Full Tray grant this year:
Adrian Public Schools (ISD 511), Adrian
Aitkin Public Schools (ISD 1), Aitkin
Alexandria Public Schools (ISD 206), Glenwood/Alexandria
All Saints Catholic School, Lakeville
Austin Public Schools (ISD 492), Austin
Barnesville Public School (ISD 146), Barnesville
Becker Public Schools (ISD 726), Becker
Belgrade-Brooten-Elrosa Public (ISD 2364), Belgrade
Benson Public School (ISD 777), Benson
Bloomington Public Schools (ISD 271), Bloomington
Bluffview Montessori (Dist 4001), Winona
Brainerd Public Schools (ISD 181), Brainerd
Buffalo-Hanover-Montrose (ISD 877), Buffalo
Burnsville Eagan Savage (ISD 191), Burnsville
Cannon Falls Public Schools (ISD 252), Cannon Falls
Cook County (ISD 166), Grand Marais
Cornerstone Montessori Elementary School, St Paul
Crosby-Ironton Public Schools (ISD 182), Crosby
Crosslake Community School (CSD 4059), Crosslake
Dassel Cokato Public Schools (ISD 466), Cokato
Deer River Public Schools (ISD 317), Deer River
Delano Public Schools (ISD 879), Delano
Detroit Lakes Schools (ISD 22), Detroit Lakes
Dilworth-Glyndon-Felton Public Schools (ISD 2164), Dilworth
Duluth Public Schools (ISD 0709), Duluth
East Range Academy of Technology and Science, Mountain Iron
Eden Prairie Public Schools (ISD 272), Eden Prairie
Fergus Falls Public Schools (ISD 544), Fergus Falls
First Evangelical Lutheran School, Glencoe
Foley Public Schools (ISD 51), Foley
Fond du Lac Reservation Ojibwe School, Cloquet
Frazee Vergas Public Schools (ISD 23), Frazee
Fridley Public Schools (ISD 14), Fridley
Glacial Hills Elementary (CSD 4168), Starbuck
Granada Huntley East Chain School (ISD 2536), Granada
Heron Lake Okabena Public Schools (ISD 330), Okabena/Heron Lake
Hibbing Public Schools (ISD 701), Hibbing
Hinckley-Finlayson Public Schools (ISD 2165), Hinckley
Holy Rosary School, Detroit Lakes
Holy Trinity Catholic School, Pierz
Holy Trinity Catholic School, South Saint Paul
Hopkins Public Schools (ISD 270), Hopkins
Hutchinson Public Schools (ISD 423), Hutchinson
Immanuel Lutheran School, Gaylord
Intermediate District 287, Plymouth
Jordan Public Schools (ISD 717), Jordan
Lake City Schools (ISD 813), Lake City
Lake of the Woods (ISD 390), Baudette
Lake Superior School District (ISD 381), Two Harbors
Lanesboro Public Schools (ISD 229), Lanesboro
Litchfield Public Schools (ISD 465), Litchfield
Mankato Area Public Schools (ISD 77), Mankato
McGregor Public School (ISD 4), McGregor
Mesabi East Schools (ISD 2711), Aurora
Minneapolis Public Schools (Special School Dist No. 1), Minneapolis
Minnewaska Area Schools (ISD 2149), Glenwood
Moorhead Area Public Schools (ISD 152), Moorhead
Morris Area Public Schools (ISD 2769), Morris
Mountain Lake Christian School,               Mountain Lake
Nativity of Our Lord School, St. Paul
Nett Lake Public Schools (ISD 707), Nett Lake
New Millennium Academy (CSD 4143), Brooklyn Center
New Richland-Hartland-Ellendale-Geneva (ISD 2168), New Richland
New Ulm Area Catholic Schools, New Ulm
North Branch Area Public Schools (ISD 138), North Branch
Northland Community Schools (ISD 118), Remer
Northwestern MN Juvenile Center, Bemidji
Osseo Area Public Schools (ISD 279), Maple Grove
Paynesville Public Schools (ISD 741), Paynesville
Pelican Rapids Public Schools (ISD 548), Pelican Rapids
Pine City Public Schools (ISD 578), Pine City
Pine Island Public Schools (ISD 255), Pine Island
Plainview-Elgin-Millville Schools (ISD 2899), Plainview
Prior Lake-Savage Area Schools (ISD 719), Prior Lake
Red Lake School District (ISD 38), Red Lake
Red Rock Central (ISD 2884), Lamberton
Richfield Public Schools (ISD 280), Richfield
Ridgeway Community School (CSD 4083), Houston
Riverway Learning Community, Winona
Robbinsdale Area Schools (ISD 281), New Hope
Rosemount-Apple Valley-Eagan Schools (ISD 196), Rosemount
Roseville Public Schools (ISD 623), Roseville
Rush City School (ISD 139), Rush City
Rushford-Peterson Public Schools (ISD 239), Rushford
SAGE Academy (CSD 4087), Brooklyn Park
Saint Anthony New Brighton Schools (ISD 282), St. Anthony
Saint Charles Public Schools (ISD 858), Saint Charles
Saint Paul Public Schools (ISD 625), St. Paul
Salem Lutheran School, Stillwater
Sartell-St. Stephen Public Schools (ISD 748), Sartell
Sauk Rapids-Rice Public Schools (ISD 47), Sauk Rapids
Schoolcraft Learning Community (CSD 4058), Bemidji
Springfield Public Schools (ISD 85), Springfield
St Louis Park Public Schools (ISD 283), St Louis Park
St Peter Public Schools (ISD 508), St. Peter
St. Cloud Public Schools (ISD 742), Waite Park
St. Croix Preparatory Academy (CSD 4120), Stillwater
St. Michael-Albertville Schools (ISD 885), Albertville
St. Peter Lutheran School, St. Peter
St. Wenceslaus School, New Prague
Staples-Motley School District (ISD 2170), Staples
The Journey School, Saint Paul
United South Central Public Schools (ISD 2134), Wells
Vermilion Country School, Tower
Voyageurs Expeditionary School (CSD 4107), Bemidji
Wabasha-Kellogg Schools (ISD 811), Wabasha
Wayzata Public Schools (ISD 284), Plymouth/Wayzata
White Bear Lake Public Schools (ISD 624), White Bear Lake
Willmar Public Schools (ISD 347), Willmar
Willow River Public Schools (ISD 577), Willow River
Winona Area Public Schools (ISD 861), Winona
Wrenshall Public Schools (ISD 100), Wrenshall
Zion Lutheran Church and School, Alexandria
Zumbrota-Mazeppa Public Schools (ISD 2805), Zumbrota
For more information about FY23 grant awards, see First Bite Past Projects and Full Tray Past Projects.