The Farm to School Full Tray Grant is intended for school districts that have some Farm to School experience and want to grow their Farm to School programming and expand local procurement from Minnesota producers.
The amount of funding each school district is eligible for is based on the number of reimbursable lunches and breakfasts served in October 2021, using this formula: meals served x 20 cents x 10 months.
Example: (7,500 reimbursable lunches + 5,000 breakfasts) x $0.20 x 10 months = $25,000
The maximum award that a school district may apply for is $100,000; the minimum is $2,500. A cash match is not required.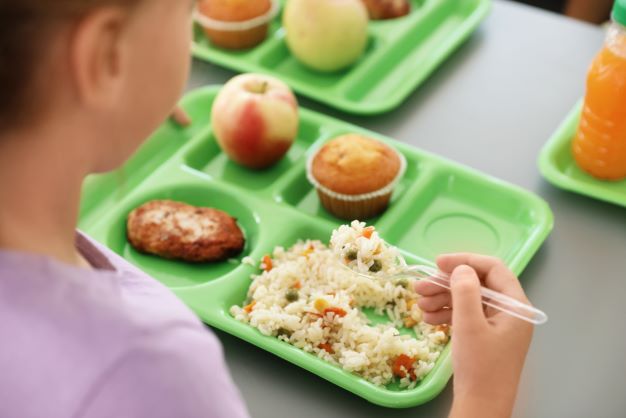 Eligible applicants
Public or private schools or school districts that participate in the National School Lunch Program (NSLP) and serve food to K-12 students are eligible to apply. We encourage school districts serving sovereign tribal nations to apply.
Schools just starting a Farm to School program should consider applying for the Farm to School Mini Bite Grant.
Eligible projects
Projects must enhance and expand existing procurement and consumption of Minnesota grown and raised foods. This may include but is not limited to:
Trialing new Minnesota grown products on the menu through taste tests
Diversifying the products sourced from a Minnesota farm
Increasing the number of times a Minnesota item or meal repeats on the menu
Adding Minnesota Thursday as monthly feature to the menu
Expanding the number of featured items or meals during Farm to School Month
Introducing local sourcing into the School Breakfast Program (SBP)
Amounts available
Through our Local Food for Schools Cooperative Agreement with the United States Department of Agriculture (USDA) and with the support of the Cargill Foundation, we anticipate awarding nearly $3.5 million to reimburse school districts for purchasing Minnesota grown and raised foods used in school meal programs.
Schools may apply for $2,500 – $100,000.
There is no cash match requirement.
We ask that you only request the amount of funding you think you can spend within the grant period (approximately January 2023 – January 2024).
Applying
Applications are due no later than 4:00 p.m. Central Time on Thursday, November 17, 2022.
Contact us if you need the application in an alternative format. You can also view our list of past projects and request a copy of an application to help you prepare.
Second Helping Food Funds
If we have funds available after initial grant awards are made, we will award Second Helping Food Funding to selected Full Tray recipients. This funding is in addition to the original formula-based request and is capped at $50,000 per school district.
To be considered for these additional funds, complete the Second Helping section at the end of the Full Tray online application.
Receiving a Full Tray Grant does not guarantee you will receive Second Helping funds.
AGRI Equipment Grant
In addition to applying for the Farm to School Full Tray Grant, you may also apply for up to $35,000 for equipment purchases.
Equipment requests may include the cost of equipment, shipping, and associated installation costs and must support Farm to School initiatives.
There is a 1:1 match requirement and equipment projects must be completed by August 31, 2025.
Receiving a Full Tray Grant does not guarantee you will receive equipment funding.