What is Cyanazine?
Cyanazine is an herbicide that was mainly used on corn crops in Minnesota from the early 1970s through the 1990s. Cyanazine use stopped in 2002 when the registration of this pesticide was voluntarily cancelled. Cyanazine breaks down in the environment into different chemicals. Some of the breakdown products of cyanazine have been detected in surface water and groundwater in Minnesota, including private drinking water wells. Consuming water with concentrations of total cyanazine (cyanazine plus its breakdown products) above the Health Risk Limit (HRL), set by the Minnesota Department of Health (MDH) at 1 microgram per liter (µg/L) or 1 part per billion (ppb), may present a health risk when consumed over long periods of time. Consuming water with total cyanazine concentrations above 3 µg/L may pose a risk if consumed in shorter periods of time. More information on the risks associated with cyanazine and its breakdown products is available on the MDH website.
What State Agency is Responsible for Monitoring Groundwater and Surface Water for Cyanazine and its Breakdown Products?
The MDA is responsible for monitoring groundwater and surface water for pesticides and fertilizers. They also provide support to other agencies that are interested in monitoring for pesticides. As described above, the MDH is responsible for developing health-based reference values for drinking water and monitoring public water supplies. The Minnesota Pollution Control Agency (MPCA) is responsible for developing surface water regulatory standards and monitoring surface waters for non-agricultural chemicals. There are no surface water standards or reference values for the cyanazine breakdown products.
Limited Testing Options
Prior to 2019, only one federal research laboratory in the nation was capable of testing for cyanazine breakdown products. In early 2019, the MDA laboratory and a private laboratory under a contract with the MDA were able to develop a method to detect and measure cyanazine breakdown products in water. Both the MDA and the contract laboratory have been conducting analysis for cyanazine breakdown products in water samples since March 2019.
What are we doing about cyanazine?
Because cyanazine is no longer used in the U.S., responding to detections of cyanazine breakdown products is generally limited to identifying areas of the state where these compounds may be present in groundwater and assisting the MDH in making recommendations for treatment of drinking water. At this time, the MDA believes concerns related to cyanazine degradates are primarily a groundwater issue, as detections in surface water (rivers and streams) have been limited. The MDA is working with commercial laboratories to develop lower cost options for testing for cyanazine breakdown products in water samples.
In 2019, the MDA included the analysis of cyanazine breakdown products in its groundwater, surface water, and Private Well Pesticide Sampling (PWPS) project, providing data from monitoring locations throughout the state. In addition, the MDA collected samples from 84 private well locations in Dakota County that had previously exhibited detections of cyanazine breakdown products based upon sampling performed by Dakota County Environmental Resources Department using a federal research laboratory. The MDA also evaluated the effectiveness of existing in-home water treatment systems at removing pesticides (including the cyanazine breakdown products) at multiple locations during the year.
Pesticides, including cyanazine breakdown products, may be present in your well water if you are in an area that has historically been used to grow corn and where your groundwater may be vulnerable to contamination. If you are unsure if groundwater in your area is considered vulnerable, you can check the MDA's interactive Vulnerable Groundwater Area Map.
Results
The table below shows results for counties that had private well samples with a concentration over the total cyanazine HRL of 1 µg/L in 2019. The map below indicates total cyanazine detections greater than 50% of the health reference value from sampling in private wells in 2019.
Summary of 2019 Cyanazine related Monitoring Results from Private Wells
| County | Number of Samples | Number of Samples Over the HRL (1 µg/L) |
| --- | --- | --- |
| Scott | 91 | 17 |
| Dakota* | 84 | 14 |
| Olmsted | 123 | 4 |
| Houston | 150 | 3 |
| Wright | 177 | 2 |
| Chippewa | 46 | 2 |
| Pipestone | 35 | 1 |
*Represent resampled wells with previous detections, based upon sampling done by Dakota County Environmental Resources Department.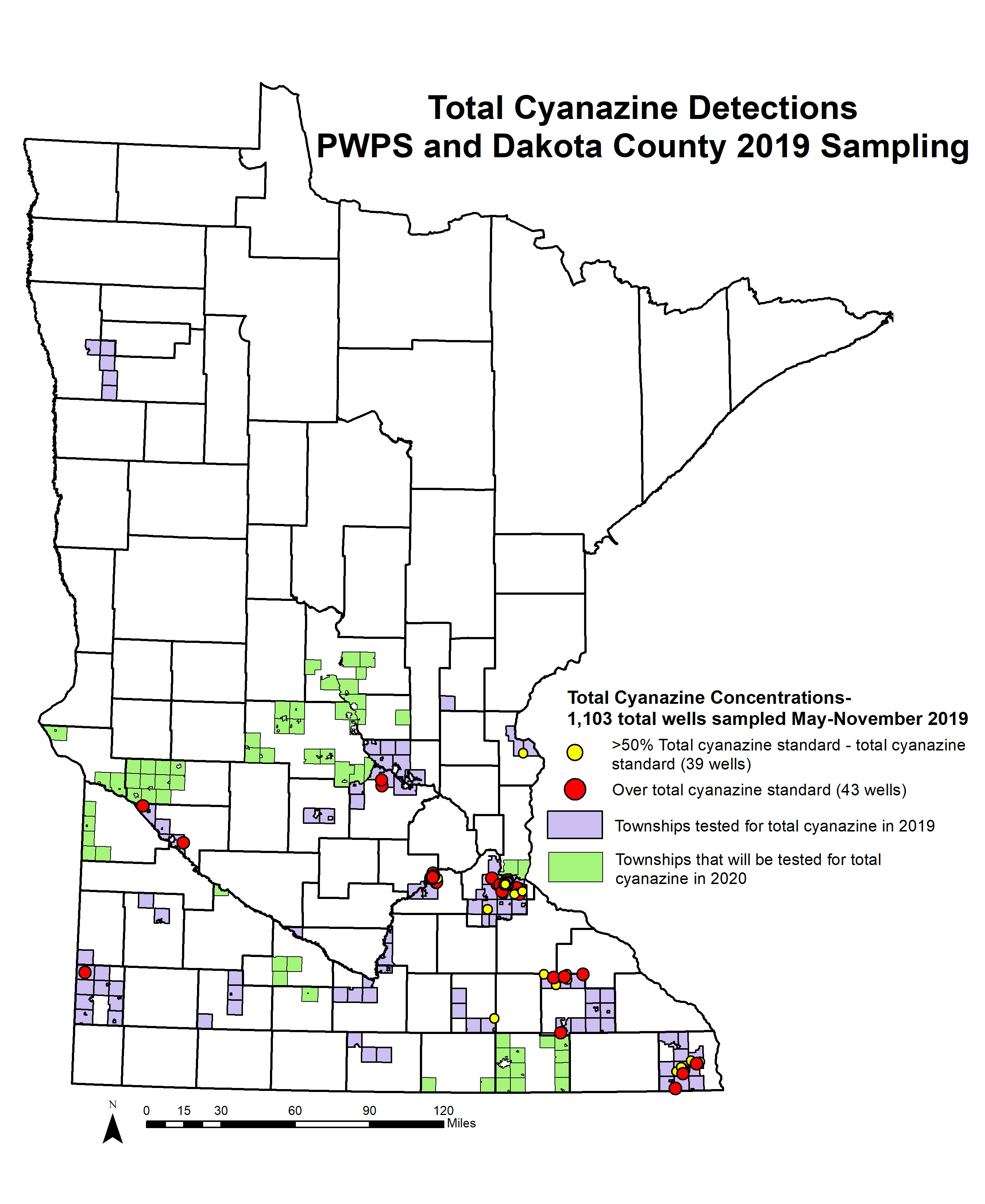 Testing Laboratories
Testing for pesticides in water is expensive (approximately $500/sample) and, as of March 2020, only one commercial lab in the nation (Weck Labs in California) is able to analyze for the cyanazine breakdown products. The MDA is working with commercial labs to try to develop a lower cost test.
Home Treatment Options
The cost for testing for pesticides in water may exceed the cost of a point-of-use home treatment system, such as reverse osmosis for drinking water. In sampling conducted by the MDA, water from 44 private drinking water wells was sampled before and after it passed through the homeowners' reverse osmosis system. The results indicated reverse osmosis home treatment systems removed 99.7 percent of pesticides that were evaluated, including 100 percent of the cyanazine breakdown products. The reverse osmosis systems also reduced nitrate concentrations in the water to levels below the drinking water standard of 10 mg/L. It is important to note that the systems need to be properly maintained.
If considering a treatment system, make sure the treatment unit is certified by the National Sanitation Foundation International (NSF), Underwriter's Laboratory (UL), or Water Quality Association (WQA) to remove pesticides. The MDH has more information about these technologies and grant and loan programs to help pay for treatment, visit their Home Water Treatment Fact Sheet.
Additional Monitoring
In 2020, the MDA will continue to monitor for cyanazine breakdown products in groundwater, surface water, and private wells. The specific townships to be sampled through the PWPS Project are shown above. The map also presents locations where cyanazine degradates have been detected in private drinking water wells in Minnesota. The information collected will help us better understand where cyanazine breakdown products are present in Minnesota groundwater, provide meaningful health risk information to well owners, and aid in determining future areas for monitoring.