Want to promote your Minnesota food, beverage, or ingredient at a business-to-business (B-to-B) tradeshow? Do you market your products using in-store demos? Are you new to the tradeshow world and want to learn from mentors at a Minnesota Pavilion event? Our New Markets Cost Share Program can help!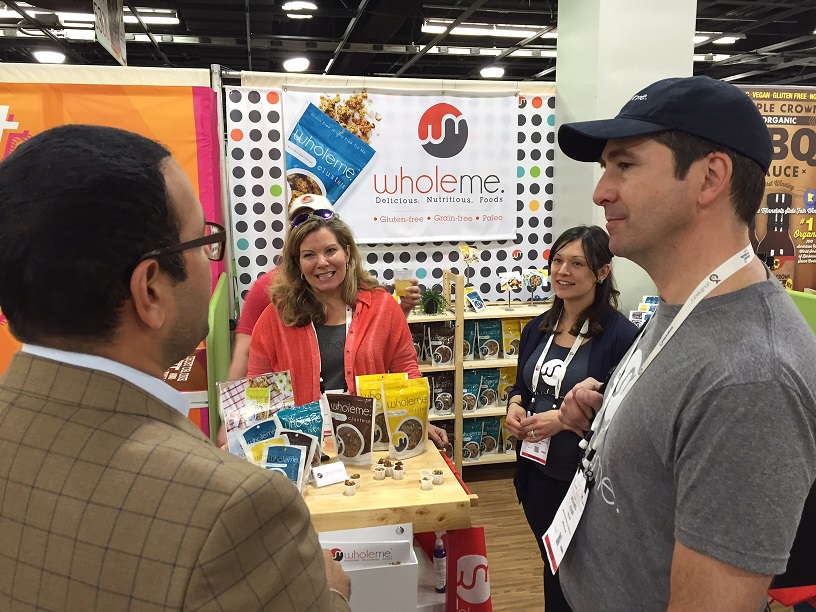 Industry Tradeshows
This program reimburses up to 50 percent of booth space cost at any business-to-business (B-to-B) tradeshow. These are shows commonly attended by wholesalers, grocers, retailers, distributors, brokers, etc.
Eligible expenses
Booth rental (not available if you are buying discounted space in a Minnesota Pavilion)
Badge Scanners/Lead Retrieval services
Ineligible expenses
In-Store Retail Product Sampling and Demonstrations (Demos)
To qualify for reimbursement, sampling must be done in a retail location that sells your product(s). This can include grocery stores, gift boutiques, or other retailers. It cannot include your own retail store or sampling at farmers markets, festivals, or other public events.
Eligible expenses
Labor for an employee, owner, or contracted help, at a flat rate of $10/hour
Mileage at $0.50/mile, with a per-demo maximum of $200 (valid only for owners or employees, not contractors)
Ineligible expenses
Lodging
Booth supplies such as plates, napkins, and toothpicks
Your own product for sampling
Sales sheets, business cards, and other printed literature
General Program Information
Eligibility and Reimbursement Amounts
Your business must be registered with the Minnesota Secretary of State.
We reserve the right to deny claims from entities not in good standing with the State, or who do not comply with the program requirements.
If the product you're promoting is made in Minnesota, you're eligible to claim up to $4,000 per state fiscal year for any combination of tradeshows, demos, and mentorship. If your product is manufactured outside of Minnesota, the limit is $2,000 per year. Awards at MDA-sponsored events do not apply to annual limits.
Application Deadlines
Reimbursements are awarded on a quarterly basis, based on the Minnesota State fiscal year (July 1-June 30.)
You must apply for reimbursement within the quarter that your eligible activity occurred. We will reimburse a percentage of claim amounts based on overall demand for the budget set aside for each quarter (currently $50,000.)
Quarter
(Q)

Activity Dates
(Fiscal Year 2020)

Application Deadline

Q1

July 1 –Sept. 30, 2019
(Note: June 13-30, 2019 activities are also eligible)

October 11, 2019

Q2

Oct. 1 – Dec. 31, 2019

January 10, 2020

Q3

Jan. 1 – Mar. 31, 2020

April 10, 2020

Q4

Apr. 1 – June 12, 2020
(Note: June 13-30, 2020 activities can be reimbursed in Q1 of fiscal year 2021)

June 12, 2020
Example: A business demos their product three times: August 26, September 15, and October 5. The first two demos must be submitted for reimbursement by the deadline for Q1, while the October 5 demo must be submitted by the Q2 deadline.
How to Apply
Complete and sign the appropriate application found in the Forms and Resources section and email it and any documentation to Ariel Kagan.
For tradeshow expenses, include copies of receipts or invoices that show a zero balance. If you don't have receipts, you can send a copy of the invoice and proof of payment (cancelled check or credit card statement.)
If this is your first time applying for reimbursement, you must also submit an IRS W-9 "Request for Taxpayer ID and Certification".
If you want a spreadsheet to help you track and calculate in-store demo expenses, request one from Ariel Kagan.
Other Requirements
To be reimbursed for expenses through this program, you agree to:
Promptly return post-event and follow-up surveys that ask for information including the number of leads generated and sales projections.
Retain receipts and records for three years and make them available for audit or inspection by the MDA or state auditor on request.
Source of Funds
Funds for this program come from the Agricultural Growth, Research, and Innovation Program (AGRI) established by the State Legislature to advance Minnesota's agricultural and renewable energy industries.