Retail food is food, other than restaurant food, that is purchased to eat off the premises. This includes meats, produce, milk, bread, eggs, snacks, and many other items. In Minnesota, more than 8,000 licensed retail food establishments offer consumers an extensive amount of goods every day.
The Minnesota Department of Agriculture's (MDA) Retail Food Program conducts periodic inspections to assesses food safety plans, facilities, employee knowledge and performance to verify food establishments have the needed capacity to protect food and consumer health. Preventing illness caused by germs and other agents in food is the shared objective. Managing risk to health through sound food safety practices, sanitary facilities, and informed consumers is the most reliable way to reach that goal.
Retail Food Program Annual Report
The annual report is a comprehensive look at the Retail Food Program's resources, budget, and accomplishments in the last year as well as goals for the upcoming year. 
FAQ
This newsletter provides information about the MDA Retail Food Program events, policies, and regulations. Endorsement of products or companies is neither intended nor implied.
Retail Food for Thought 
Electronic distribution list for the Retail Food for Thought Newsletter
To subscribe/unsubscribe to the "Retail Food for Thought Newsletter", please complete this online form.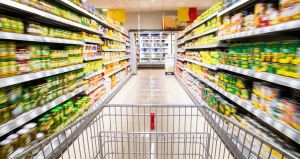 According to Minnesota Statue, a retail food establishment is an operation that stores, prepares, packages, serves, vends, or otherwise provides food and beverages for human consumption. The food is sold directly to the consumer or indirectly through a delivery service. Some examples of retail food establishments include, but are not limited to:
Grocery stores
Convenience stores
Bakeries
Meat Markets
Mobile food units
Wineries
Taprooms
Vending machines and micro markets
Farmer's market stands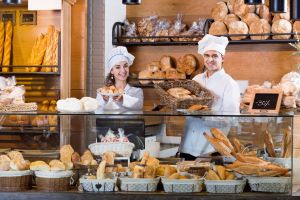 All retail food establishments and mobile food operations fall under the Retail Food Handler License category and have the same licensing fee structure. However, the renewal period differs between the two, with Retail Food Handler Licenses renewed annually on July 1, and Retail Mobile Food Handler Licenses renewed annually on April 1. For more information on Retail Mobile Food Handlers and their specific requirements visit our temporary food establishments webpage.
Retail Food Handler License Fee Schedule

| Gross annual sale or service for the immediately previous license or fiscal year | License Fee Effective July 1 | Late Renewal Penalty | No License Penalty |
| --- | --- | --- | --- |
| Pre-packaged nonperishable food less than $15,000 | $50 | $17 | $33 |
| Under $15,000 or $15,000 to $50,000 | $77 | $25 | $51 |
| $50,000 - $250,000 | $155 | $51 | $102 |
| $250,001 - $1,000,000 | $276 | $91 | $182 |
| $1,000,001 - $5,000,000 | $799 | $264 | $527 |
| $5,000,001 - $10,000,000 | $1,662 | $383 | $767 |
| $10,000,001 - $15,000,000 | $1,376 | $454 | $908 |
| $15,000,001 - $20,000,000 | $1,607 | $530 | $1,061 |
| $20,000,001 - $25,000,000 | $1,847 | $610 | $1,219 |
| Over $25,000,001 | $2,001 | $660 | $1,321 |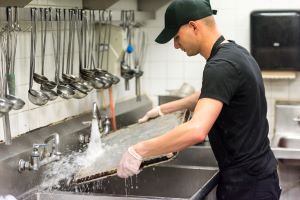 Most routine inspections are unannounced to observe the activities and risks of the operation without advanced notice. Inspectors will notify the person in charge of their arrival, and show a government issued ID at the start of every inspection. During an inspection the inspector will:
Ask open ended questions to the person in charge and their employees to learn about the menu, knowledge, health policy, and practices as it relates to food safety.
Observe food processing and cleaning operations within the food establishment focusing on food-borne illness risk factors.
Educate the food workers on food safety practices and provide resources as necessary based on their observations.
Work with the food establishment owners, managers, and employees to take immediate corrective actions during the inspection and help operators find long term solutions to prevent future violations.
Leave a report at the end of the inspection which may include orders for violations observed during the inspection.
As necessary, inspectors will follow up on inspection findings during subsequent inspections.
The Retail Food Program inspects licensed food establishments at set frequencies based on the highest risk food activity within the business. There are five potential categories for a food establishment to be designated, which can change as the business and menu change over time. Additional inspections can occur as necessary such as follow up inspections, complaint inspections, or emergency response inspections.
Inspection Risk Classification and Frequency

| Risk Classification | Frequency | Types of Processing | Examples |
| --- | --- | --- | --- |
| Type 1 | 9 months | Food facilities with specialized processes which require a HACCP plan | Meat Shops that smoke and cure foods, sushi kiosk with acidified rice |
| Type 2  | 12 months | Food facilities with complex processes for a variety of foods which could involve cooking, cooling, reheating and hot holding | Large grocery stores with extensive deli preparation |
| Type 3  | 18 months | Food facilities that prepare less complex food products such as heating and holding only | Convenience Stores |
| Type 4 | 36 months | Food facilities with limited processing of foods or primarily only serving already prepared foods | Brewery taproom or small convenience stores |
| Type 5 | 42 months | Food facilities that only hold shelf-stable pre-packaged foods or raw agricultural products | Gift shops with limited snacks offered |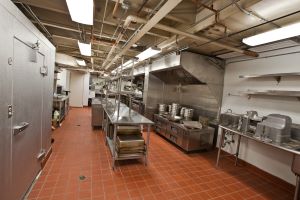 Retail Food Inspectors work closely with the MDA Plan Review Team to review facility plans for remodeling or new construction. Once facility plans are approved, inspectors will conduct an onsite inspection and compare the submitted and approved plans to what they observe in the food establishment. The inspector will verify agreed upon revisions or corrections noted in the plan review approval letter, and ensure the food establishment layout, equipment and room finishes meet the Minnesota Food Code requirements. The inspector will license or approve the food establishment for operation if Minnesota Food Code requirements have been met, and the food establishment has received final approvals for trade work. Trade work includes electrical, plumbing, or building code requirements. More information on the plan review process can be found on the Plan Review - Retail Food Establishments page.
In addition to verifying the food establishment has met the requirements within the Food Code, the inspector will verify the new business owner/operator has basic food safety knowledge applicable to their operation. The inspector will provide a food license application for the new business and information such as legal business name, Minnesota Tax ID, physical address of the business, mailing address and payment will be required to complete the application. Estimated gross annual food sales will be used to be determine the license fee that is to be collected, the inspector can submit the application and payment on behalf of the applicant, or the applicant can mail the application with check or money order within ten business days from the inspection. Like any inspection, the food inspector will leave a report which outlines if the business is approved to operate or what steps are still necessary before approval is granted. More information about the types of licenses can be found on the Food Licenses page.
The MDA Retail Food Program partners with various agencies including the Minnesota Department of Health, Minnesota Department of Public Safety, Minnesota Department of Labor and Industry, and others when necessary. Some food facilities are inspected by multiple inspection programs within the MDA such as the Manufactured Food Inspection Program, the Meat Inspection Program or the Dairy Inspection Program.
Minnesota Department of Health
Retail food establishments are licensed by different regulatory authorities in Minnesota based on the type and predominance of business. Predominance of business means that a majority (51 percent or more) of the gross annual food sales comes from that type of food or activity. If you want a license for an operation that is primary food service, such as a restaurant, you will need to obtain a license from the Minnesota Department of Health (MDH) or one of their delegated agencies. Go to the MDH Licensing Jurisdiction page for more information.
Delegated Agencies
The MDA Retail Food Program delegates its authority to license and inspect regulated retail food establishments to seven agencies within the state. This means that within these jurisdictions, the local agency is responsible for licensing, plan review, enforcement of the Minnesota Food Code, and other applicable regulations as it relates to retail food sales.  
Delegated Agencies
Agency
Address
Phone
City of Bloomington
Environmental Health Division
City of Bloomington
1800 West Old Shakopee Road
Bloomington, MN 55431
952-563-8934
City of Brooklyn Park
Code of Enforcement and Public Health Division
5200 85th Avenue North
Brooklyn Park, MN 55443
763-493-8070
Hennepin County
(except the cities of Crystal, Golden Valley, and St. Louis Park
Epidemiology and Environmental Health
1011 South First Street
Suite 215
Hopkins, MN 55343
612-543-5200
City of Minneapolis
Minneapolis Environmental Health
Public Service Center
250 South Fourth Street
Room 414
Minneapolis, MN 55414
612-673-2301
City of Minnetonka
City of Minnetonka Health Division
14600 Minnetonka Boulevard
Minnetonka, MN 55345
952-939-8200
Ramsey County
(except the cities of Maplewood, New Brighton, and City of St. Paul)
Environmental Health Section
St. Paul-Ramsey County Department of Public Health
2785 White Bear Avenue, Suite 350
Maplewood, MN 55109
651-266-2400
City of Saint Cloud
Health Inspections Department
400 Second Street South
St. Cloud, MN 56301
320-255-7214