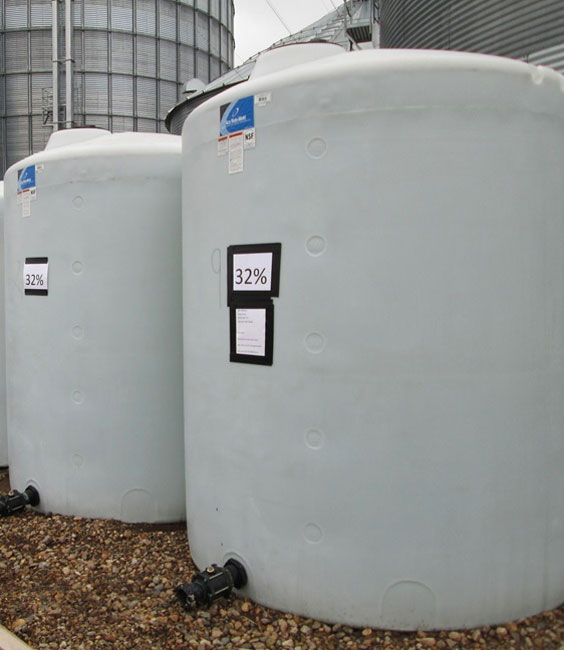 In recent years there has been an increase of on-farm storage of bulk liquid fertilizer. When precautions are taken, spills or releases can be prevented or minimized by following several practices:
containment for the tank(s) that has been maintained.
stainless steel plugs and connections to and including the first valve
stainless steel connections and valves for sight gauges that normally operate in a closed or locked position
adequate tank integrity
Minnesota farmers who store more than 6,000 gallons of bulk liquid fertilizer or who store fertilizer for distribution must have proper containment that is permitted by the Minnesota Department of Agriculture (MDA). This containment usually consists of concrete, metal, or synthetic lined earth, metal, wood, or concrete. The MDA does not recommend earthen clay liners due to a history of failure in Minnesota when the liners are not properly constructed and maintained.
Please note that a MDA liquid bulk fertilizer storage permit application that includes drawings for secondary containment and an application fee of $100 must be submitted to the department for review and approval prior to construction commencing or storage occurring of quantities greater than 6,000 gallons. Permit application turnaround time is usually about 30 days; incomplete applications require more time. Persons who build secondary containment or utilize existing structures for secondary containment prior to being issued a permit are subject to MDA enforcement and penalties, and may be required to remove the bulk liquid fertilizer from a site if the department finds the secondary containment not adequate to prevent an incident.
As part of the permitting process, the MDA will assist you in choosing the type of dike that works best for your situation and in locating the dike to meet minimum well setback distances required by the Minnesota Department of Health.
The capacity of the dike or containment area should be 125% of the largest tank plus the displacement of other tanks stored inside the dike to accommodate for snow and rain precipitation. Applications to construct and permit bulk liquid fertilizer storage containment systems on farms are available by clicking on bulk storage permit application.
To ensure tanks used to store liquid bulk fertilizer are in proper condition, do not use or purchase:
Previously used underground tanks as their construction was not designed to store product above ground.
Previously used above ground petroleum tanks as construction along with current condition may not be adequate to support bulk liquid fertilizer.
Poly tanks over 10 years old.
Any other tank being disposed of where the condition of the tank and future suitability for continued service is questionable.
According to state law, Minnesota farmers can store up to 6,000 gallons of liquid bulk fertilizer (liquid commercial fertilizer) on their own property and for their own use without having a permit or secondary containment.
Farmers who store liquid bulk fertilizer are encouraged not to place tanks adjacent to surface waters, tile inlets or anything that might be easily contaminated following a spill/incident.  Also be aware of well setback requirements for tanks storing bulk liquid fertilizer whether the tanks are in containment or not.
Farmers who store liquid bulk  fertilizer are also required to maintain an Incident Response Plan.  The plan must describe the storage, handling, disposal and incident handling practices at the storage site.  Incident Response Plans must be maintained by the farmer and be available for review upon request by the MDA.
Whether a farm site is required to have permitted secondary containment or not the farmer who stores bulk liquid fertilizer is required by law to maintain safe storage at all times.  Failure to maintain storage equipment that leads to an agricultural chemical incident may lead to a MDA enforcement response.
Also note that the 6,000 gallon bulk fertilizer storage exemption discussed above does not apply to liquid bulk fertilizer stored at chemigation sites or when using an irrigation system to apply fertilizer. Storage of bulk liquid fertilizer at chemigation sites must comply with Minnesota's chemigation regulations, which require setback to wells and require containment based on size of tank and duration of storage. 
---
Dry Bulk Fertilizer Storage Requirements