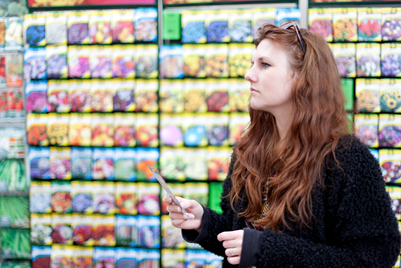 Whether you are buying seed for your farm, to patch your lawn, for your vegetable or pollinator garden, or for a conservation program, all seed that is being sold for the purpose of being planted needs to be in a package with a label that accurately reflects its contents. Furthermore, the seed label must state that the seed is alive and will grow. The germination percentage indicates what percentage of the seeds will produce a plant. The test date tells you when this germination test was conducted. Germination tests are valid only for 12 or 15 months depending on the kind of seed. Therefore the label is only valid for 12 or 15 months. Seed must be relabeled if the test date has expired. Proper handling and storage of seed (PDF)during this time helps to maintain consistent germination. Seed labeling protects the consumer by providing truthful information about the source, genetic identity or variety, and quality of the seed being purchased. Although seed consumers don't need to be familiar with all aspects of the seed law, there are some general guidelines that one can follow when purchasing seed.
Seed Buyers
Only buy seed only from reputable sources.
Carefully review seed ads to make sure they are providing the information you need.
Never buy seed that isn't labeled.
Never buy seed with a test date that is over 12 - 15 months (depending on kind) in the past (excluding month of test), or with an expired sell-by or packaged-for date.
Be aware of certification and patent restrictions.
Keep a copy of the label for each lot purchased as well as all receipts.
Seed Retailers
Work with reputable seed vendors who will rotate seed on a first-in first-out policy, work with you to replace labels on carry-over seed from the previous year, or allow the return of seed with expired test dates.
Do not sell carry-over seed from the previous year with an expired label.
Keep complete invoices for purchases of seed.
Keep copies of original labels
Maintain complete invoices for sales of seed
Seed Labelers
Obtain a permit for labeling seed.
Get seed tested according to AOSA Rules for Testing Seeds.
Label seed completely and accurately.
Keep the required records for each lot sold for 3 years.
Keep a file sample of each seed lot sold for 1 year.
Make sure licensing agreements allow you to sell seed of the variety you plan to market.
Know the certification requirements for the variety you are marketing and comply with them.
Expected performance of the seed should be based on varietal characteristics and the quality factors listed on the label. Without a label, there is no declaration of capability and no proof the seed is actually intended for planting purposes. Without proof, it can be difficult, if not impossible; to seek damages from a seed seller if a consumer believes the seed didn't perform as expected.
All seed offered for sale in containers or in bulk for sowing purposes in Minnesota must have attached a seed label containing the information required by the Minnesota Seed Law (Minnesota Statutes, section 21.82). Proper labeling is the responsibility of the person or firm whose name appears on the label as the labeler. There are no exceptions to this requirement.
---
Buying agricultural seed for your farm?
This category of seed applies to farmers who are planting corn, soybean, or cover crop for livestock for example. Make sure that seed has a full label, and example label is provided below.  If you are buying seed from a bulk bin, the seller should have a label nearby that is accessible, and should be provided with the bulk certificate.
For classes of certified seed, proof of certification is required in the form of a certified seed label or bulk certificate issued by a recognized seed certification agency.
Kind: Wheat

Variety: Certified Norden

Lot Number: 13-1AZ

Pure Seed: 99.90%

Weed Seed (If Present): 0.01%

Other Crop: 0.01%

 

Germination: 94%

Hard (Dormant) Seed (If Present): N/A %

Total: Germination Plus Hard (Dormant) Seed (Optional): N/A %

Noxious Weed Seeds (Name of Each Present): None

Number Per Pound: N/A

Origin (State or foreign Country): Minnesota

Germination Test Date (Month and Year): 1/18

For Hybrid Field Corn Relative Maturity (Single Day Increment, Such as 93 Days): N/A

Net Weight: 50 lbs.

Labeler's Name: John Doe Seed Co.

Labeler's Mailing Address: P.O. Box 10, Prairietown, MN 55555
---
Buying seed from your local home store?
The labeling requirements depend on how the seed is packaged. Large quantities of single kinds or mixes must meet all the requirements of seed labeled for agricultural use. Smaller packets of seed packaged for home gardeners require more limited information on the label as long as the seed meets minimum requirements for quality. An example of a label for a packet of seed is provided.
 

Kind:

 

Variety:

 

Lot Number:

Net Weight or Number of Seeds:

Packed for (Year - Expires on 12/31 of the year stated):

Sell by (Optional - Month/Year):

Labeler's Name:

Address:

City:

State:

Zip:
---
Buying seed for a conservation planting?
Numerous state and federal programs support conservation plantings in Minnesota. Although these programs have specific requirements for those that are enrolled, not all programs provide details on whether the vendors providing the seed to be used in these plantings are compliant with the Minnesota Seed Law.  It is recommended to obtain labels for the seed that is being used in your conservation planting, and to consult with MDA regarding the seed mix if the label looks significantly different from the example provided below.  Contact your local seed inspector (see Buying and Selling Seed).
Mixture Name: Little House Prairie Mixture

Lot Number: W123–07

Kind

Variety

Origin

Pure Seed %

Germination %

Hard (Dormant) %

Total Viable %

Big Bluestem

Charles

SD

40

80

15

95

Little Bluestem

Edward

TX

30

75

10

85

Switchgrass

Laura

MN

24

80

5

85

Other Crop Seed: 1.0%

Weed Seed: 0.5%

Inert Matter: 4.5%

Noxious Weed Seeds (Name of Each Present): None

Number Per Pound: 0

Net Weight: 52 lbs.

Germination Test Date (Month/Year): 1/18

Sell by Date (Optional - Month/Year): 4/19

Labeler's Name: Ingalls Seed

Labeler's Mailing Address: P.O. Box 10, Prairietown, MN 55555
---
Seed libraries and seed hand outs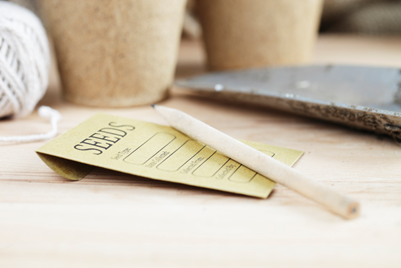 Home gardeners and conservation volunteer groups often collect seed and provide them as free handouts to neighbors or for reuse on new plantings. Seed libraries also exist as a place for collected seeds to be stored for the free taking for use in home gardens. These types of seed transactions are exempt to the Minnesota Seed Law and do not need to be labeled, provided that 1) they do not contain prohibited or restricted weed seeds or seeds listed as noxious, and 2) that the seeds are not for sale. In situations where large quantities of seed are being collected for reuse, we recommend getting them tested for prohibited or restricted weed seeds and for noxious weed seeds.