2021 Conference Speakers
Silvia Abel-Caines, D.V.M., Ph.D.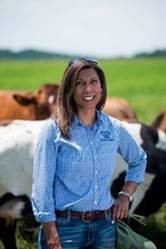 Silvia Abel-Caines is the Staff Ruminant Nutritionist for Organic Valley. Her research collaborations include dairy calf management and the fatty acid profile of milk. A certified grazing planner, she actively volunteers with non-governmental organizations to help farmers in South America, the Caribbean, Europe, and Africa. She combines her experience working with pasture-based farmers with her technical training to demonstrate the links between soil health, plant biodiversity, animal health, and nutrient-dense food. An advocate for sustainable farming, she serves on the board of the National Farm to School Foundation and the Community Harvest Educational Foundation. Dr. Abel-Caines received her veterinary and master's degrees from the University of Tennessee and her doctorate in ruminant nutrition from the University of Nebraska.
January 14: The Connection Between Farm Ecosystem Health and Human Health
Carolyn Dimitri, Ph.D.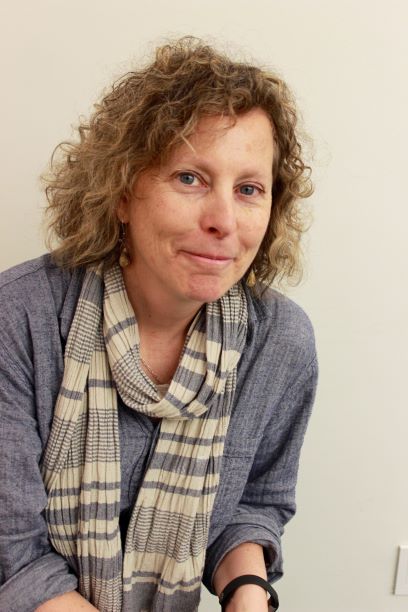 Carolyn Dimitri is an applied economist on the faculty at New York University. She is widely recognized as a leading expert in the procurement and marketing of organic food and has published extensively on the distribution, processing, retailing, and consumption of organic food. She worked for more than a decade at the USDA Economic Research Service, where she researched many aspects of the organic sector, including consumer expectations and attitudes about organic food. Dr. Dimitri serves on the board of the Organic Farming Research Foundation, as a scientific advisor to the Organic Center, and was recently named to the National Organic Standards Board.
January 21: The Challenges of Our Times: Climate Change, COVID, and Organic Farm Viability
Andy Pressman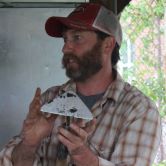 Andy Pressman serves as the Northeast Regional Director for the National Center for Appropriate Technology (NCAT) and the ATTRA Sustainable Agriculture Program. NCAT is a national nonprofit that helps people build resilient communities through local and sustainable solutions to reduce poverty, strengthen self-reliance, and protect natural resources. Andy has been with NCAT since 2007, helping farmers with whole-farm planning, designing small-scale intensive farming systems, organic crop production and certification, and urban agriculture. Along with a master's degree in sustainable systems design and agroecology from Slippery Rock University, Andy also has extensive experience in market farming and working with appropriately scaled tools and equipment for the small farm. Andy and his family operate Foggy Hill Farm, a small diversified farm and CSA located in Jaffrey, New Hampshire.
January 21: The Challenges of Our Times: Climate Change, COVID, and Organic Farm Viability
Bob Quinn, Ph.D.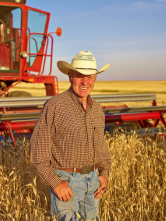 Bob Quinn is an organic farmer near Big Sandy, Montana, and a leading green businessman. He served on the first National Organic Standards Board and has received the Montana Organic Association's Lifetime of Service Award, the Organic Trade Association's Organic Leadership Award, and Rodale Institute's Organic Pioneer Award. His enterprises include the ancient-grain business, Kamut International, and Montana's first wind farm. Bob is passionate about the need to provide a sustainable, nutritional food source for our nation. His book Grain by Grain summarizes his philosophy of the tie between agriculture, food, and health—food should be our medicine and medicine should be our food. He continues to study and improve farming systems on his own farm as well as promoting organic and sustainable agriculture, locally produced food, and farming/ranching systems that produce nutritious, high-quality food.
January 7: Back to the Future: Regenerative-Organic Food Production for Good Health
Amber Sciligo, Ph.D.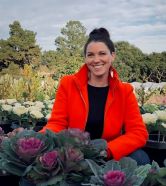 As Associate Director of Science Programs for The Organic Center, Amber Sciligo works closely with researchers, industry, farmers, and policymakers to identify organic research needs, facilitate project implementation, and communicate scientific results across the organic sector. She has a deep interest in understanding how farming practices that promote biodiversity and important ecosystem services can be more broadly adopted. She is also committed to informing research and policies to include the needs of farmers so their businesses can thrive into the future. Dr. Sciligo received her doctorate in ecology and evolution from Lincoln University, New Zealand. Her postdoctoral work at the University of California–Berkeley included interdisciplinary projects that focused on the health and effectiveness of honeybees and native bees in California. Her work also included participatory research in land access for Latino farmers, food safety risks associated with birds on farms, and the true costs/benefits for diversified farming within the organic sector.
January 28: Soil Health on Organic Farms
Cristel Zoebisch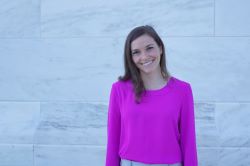 Cristel Zoebisch works for both the Organic Farming Research Foundation (OFRF) and the National Sustainable Agriculture Organization (NSAC). As OFRF's Climate Policy Associate, she works to ensure that organic agriculture is recognized and included as a climate solution by Congress and the USDA. She also leads NSAC's Climate Change and Agriculture federal legislative campaigns and portfolio. Cristel has worked across a variety of issue areas in the food system, including researching and advocating for federal programs that support beginning, socially disadvantaged, and veteran farmers and ranchers, conducting research on a nutrition incentives program in New York City, and analyzing data on the largest working lands conservation program in the country. She has a bachelor's degree in economics from the University of Texas at Austin, and a master's in food studies from New York University, where she focused on agricultural economics and policy.
January 21: The Challenges of Our Times: Climate Change, COVID, and Organic Farm Viability