United States Department of Agriculture
In the event of a confirmed diagnosis of foot and mouth disease (FMD) in the United States, the United States Department of Agriculture (USDA) will enact measures to contain, control, and eradicate the disease. These will include quarantine of the infected herd(s) and the establishment of disease Control Area(s) around the Infected Zone(s). To prevent the spread of the disease, movement of animals and animal products within, out of, and into Control Areas from uninfected premises will be halted - or restricted to farms demonstrating stringent biosecurity practices.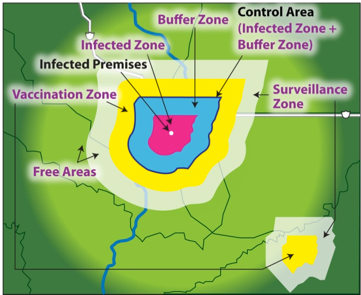 Depopulation of infected and at-risk animals may also take place, to speed disease eradication and return to disease free status for the purpose of international trade. If the outbreak is widespread and a vaccine is available, the USDA may authorize emergency vaccination of susceptible animals. While this will prevent the spread of the disease, it will have a negative impact on the United States' international trade status of FMD-free country or zone where vaccination is not practiced.
Minnesota
If FMD is confirmed in Minnesota, the USDA, the state of Minnesota, and the affected Tribal Nations will work together to detect, control, contain, and eradicate the disease as quickly as possible. If the Governor of Minnesota declares an emergency, the Minnesota Board of Animal Health (BAH) and the Minnesota Department of Agriculture (MDA) will share regulatory responsibilities for managing the disease outbreak. This will include establishing quarantine zones and disease Control Areas, as well as issuing permits for the movement of animals and animal products within, out of, and into Control Areas.
Permitted movement of milk
In addition to disease control and eradication, another goal of the response to an FMD outbreak will be to provide science- and risk-based measures to facilitate continuity of business for non-infected animal premises. The movement of raw milk from dairy farms falls under the Minnesota Secure Milk Supply Program, while the movement of dairy animals is covered under the Secure Beef Supply Plan.
In order to be eligible to move milk from uninfected dairy premises within a disease Control Area, producers will need to demonstrate to regulatory officials that they: 1) have implemented procedures and enhanced biosecurity measures for milk loading to prevent the spread of disease; 2) are keeping records of all movements of animals, people, vehicles, and equipment on and off their premises; 3) are closely monitoring their herd for signs of FMD; and 4) are aware that the organization picking up and purchasing the milk must be permitted under the Minnesota SMS Program. Milk haulers will need to be familiar with general biosecurity principles and prepared to follow the enhanced biosecurity measures prescribed by each farm they visit. Finally, processors must have procedures and enhanced biosecurity practices in place at the plant to prevent disease spread that are acceptable to regulatory officials.
Producer guidelines for moving milk from an uninfected farm within a Control Area are detailed in the Producer section, hauler guidelines are in the Hauler section, and processor guidelines in the Processor section. All stakeholders involved with the movement of milk in Minnesota will greatly benefit by proactively planning how to design and implement these measures in the event of an FMD outbreak.