Common names:  Tatarian Maple
Scientific name: Acer tataricum L.
Legal status: Specially Regulated
Sellers shall affix a label that advises "Tatarian maple should only be planted in areas where the seedlings will be controlled or eradicated by mowing or other means. Tatarian maple seed is wind dispersed so trees should not be planted closer than 100 yards from natural areas".
Background
Tatarian maple is a deciduous tree with a native range of southeastern Europe to western Asia. The plant grows as a multi-stemmed shrub or as a small tree with a dense, round crown reaching up to 30 feet tall. Its leaves change color to yellow in fall. Due to its size and its showy colors, Tatarian maple was introduced to the United States as a landscaping tree.
Description
Tatarian maple has simple, unlobed, medium green leaves (up to four inches long) with irregular serrated margins. Leaves turn yellow in the fall.
Greenish and yellowish-white flowers bloom in spring.
In the summer and fall, the flowers are followed by winged samaras (up to one inch long) that turn a showy red before browning.
The tree's bark is pale brown, thin, and smooth at first but becoming shallowly ridged with age.
Grows as a small tree with a dense, rounded crown or as a large multi-stemmed shrub.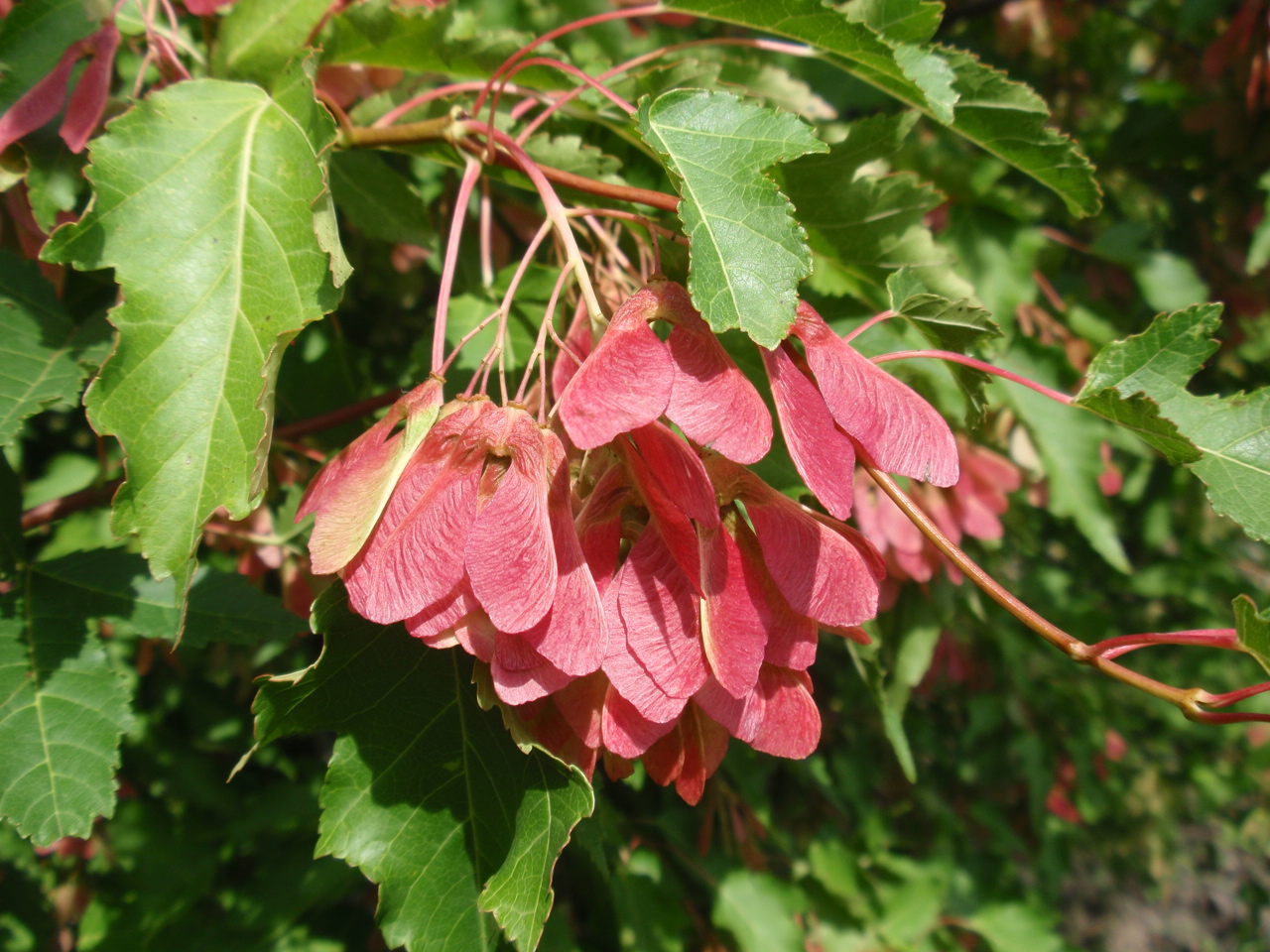 Habitat
Tartarian maple does best in sun to partial shade, but is widely adapted to most sites, if the soil is well drained. The plant is moderately drought tolerant.
Means of spread and distribution
Tatarian maples can produce abundant seed. The primary mode of dispersion is transportation by wind, as seeds are dispersed with the help of winged samaras. Distribution occurs with most of the seeds landing within 100 yards of the parent tree, with a portion that can potentially be carried long distances by wind and water.
Impact
Tatarian maple can produce abundant seed, form dense monocultures, and outcompete other species. This could reduce the number of native species which would reduce the quality of the local ecosystem.
Prevention and management
Small infestations can be controlled manually by digging and removing the root crowns. Saplings are easily pulled by hand or controlled by mowing.
Infestations can be controlled by cutting and treating the stumps with herbicide or basal bark spray treatments. For specific herbicide recommendations, check with your local University of Minnesota Extension agent, co-op, or certified landscape care expert.
Toxicity
There are no current reports found that Tatarian maple poses a significant threat to humans or livestock. However, the University of Minnesota's Extension program on horses classifies the wilted leaves of all maples as toxic.