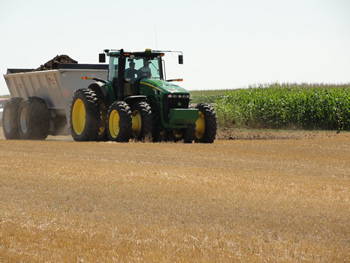 The MDA used Clean Water Fund dollars to enhance manure applicator training and education. Funding was used to improve training manuals for site managers and develop curriculum and online certification training for Commercial Animal Waste Technicians (manure applicators). This includes a series of nine training modules.
Improvements to the program increases the professionalism of the industry and supports a higher degree of licensing oversight. New educational materials help ensure that manure is safely handled and properly applied.
The nine videos are embedded in the online application. For more information visit Commercial Animal Waste Technician Licensing
 
Deliverables: 
Improved training manual for site managers: The manual is used as a study guide for an exam that evaluates knowledge of proper management and application of animal waste. Minnesota has about 300 Commercial Animal Waste Technician site managers. Updates were completed in December 2014; the manual was last updated in 2002. 

Online certification training program: Funding was used to develop curriculum and online exam technology for a Commercial Animal Waste Technician Applicator Certification Training Program. All commercial manure applicators will be required to be certified and have a current license to work in Minnesota. This was implemented in early 2015. 

The MDA worked closely with the Minnesota Pollution Control Agency, County Feedlot Officers and the University of Minnesota. Subject matter work groups, including people that apply liquid and soil manure commercially, provided feedback during the development of educational materials. Education manuals and online training were developed through a contract with the University of Minnesota. 
 
Minnesota law requires Commercial Animal Waste Technicians (CAWT) to obtain a state license. If you apply or manage manure on a for-hire basis, you must be licensed. There are two categories, solid and liquid. An open-book exam is required as part of the license application.