Methods
Three-year project at the University of Minnesota's Research and Outreach Centers in Lamberton and Waseca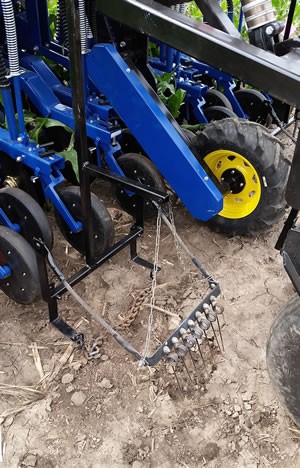 Experimental Design: Split-plot design with six replications. Main plot treatments will include establishment technologies, while sub-plot treatments will be cover crop species/mixture. The experimental check 'corn without cover crops ' will be incorporated into the treatment structure.
Cover crop establishment techniques:
A modified high-boy with drop seed tubes- without soil disturbance
A modified high-boy with drop seed tubes and soil disturbance for seed-to-soil contact
Direct-drilling cover crop seed between com rows using a custom built 3-in-1 inter-seeder
Cover crop species to be evaluated:
Winter rye (Secale cereal L. 'Rymin')
Winter Oilseeds Camelina [(Camelina sativa L. 'Joelle') and Pennycress (Thlaspi arvense L. 'Beecher Farms')]
Winter hardy mixture (Winter rye + Hairy vetch)
Non-winter hardy mixture (Oats + Field pea + Tillage radish)
Often used in Minnesota, a non-winter hardy mixture will be compared to the no cover crop (control) to check for durability and water quality impacts. 
Data Collection
Data will also be collected to quantify cover crop success, corn performance and water quality impacts.
Established cover crops (i.e. ground cover) using a combination of photography and Sigma Scan software
Early-season cover crop stand counts (percent of establishment)
Cover crop biomass and nitrogen uptake (measured at both corn maturity and prior to cover crop termination in spring)
Corn population, corn nitrogen uptake and corn grain and silage yields (will be measured annually)
Soil samples will be collected to a depth of four feet (one-foot increments) immediately after corn harvest in the fall and also in the spring prior to cover crop termination. These samples will be analyzed for soil nitrate-nitrogen concentration. 

Soil water content will be measured in increments of 0-to 8-inch depth starting at the establishment of cover crops and continue bi-weekly (FieldScout TDR 300 Soil Moisture Meter). Residual soil nitrate-nitrogen content and soil water content will provide needed information to calibrate the Nitrogen Loss and Environmental Assessment Package (NLEAP) model (NLEAP-GIS 4 .2); and to use this model to assess Nitrogen pools and pathways for Nitrogen losses (USDA-ARS, 2010).