A food allergy is an immune system reaction that occurs after eating certain foods. Approximately 2 percent of adults and up to 8 percent of children under age 5 experience true food allergies. True food allergens are proteins. The difference between an allergy and intolerance is how the body handles the offending food.
In a true food allergy, the body's immune system recognizes a reaction-provoking substance, or allergen, as foreign and produces antibodies to halt the "invasion." As the battle rages, symptoms appear throughout the body. The most common sites are: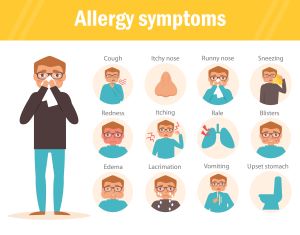 the mouth (swelling of the lips),
digestive tract (stomach cramps, vomiting, diarrhea),
skin (hives, rashes or eczema), and
airways (wheezing or breathing problems).
There is currently no cure for food allergies; the only course is strict avoidance of an offending food. For an individual with food allergies, the biggest problem is knowing whether an allergen is contained in a particular food.
Food intolerance is due to a chemical deficiency (commonly lack of a specific enzyme) and causes problems with digestion. Lactose intolerance is an example of food intolerance.
The United States Food and Drug Administration (FDA) has identified nine foods (or food ingredients) that are responsible for 90 percent of allergic reactions. Under the FASTER Act of 2021, sesame is recognized as the 9th major food allergen effective January 1, 2023. Individuals can be allergic to many other foods but the Food Allergen Labeling and Consumer Protection Act of 2004 (FALCPA) |  identified the following foods as allergens: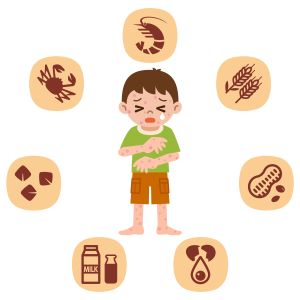 Milk and milk products
Eggs
Peanuts
Soybeans
Tree nuts (e.g. almonds, walnuts, pecans)
Wheat
Crustacean shellfish (e.g. crab, lobster, shrimp)
Fish (e.g. cod, bass, tuna, salmon)
Sesame
Allergen risk assessment and control is not an easy task at the manufacturing level, let alone at the retail level. Retail food establishments also need to evaluate their operations to determine where allergen hazards might occur and establish methods for managing those hazards.
Steps to control an allergen risk:
Identify which allergens are handled in the retail food establishment.
Determine which food products contain each allergen.
Evaluate all aspects of the operation to control each allergen. 
Ingredient Purchasing and Storage
Obtain a fully disclosed ingredient list from the supplier including details on sub-ingredients
Protect raw ingredients in storage to prevent contamination
Label raw material to indicate allergen content
Be mindful when substituting raw materials
Check ingredient list annually to verify there have not been changes from the supplier
Production / Preparation
Production scheduling: make products with allergenic products with allergenic ingredients all at one time or at the end of a production run, then perform a complete clean-up before running other products
Do not allow reuse of single service articles such as tray liners, gloves, or aprons
Dedicate separate utensils or equipment to allergenic products whenever possible
Protect work-in-process from cross-contact with allergenic products/ingredients in use at other work areas
Discourage rework or carry-over product; if necessary only use like into like product
Use standardized recipes so that ingredients are the same from one batch or serving to the next. Dedicate production systems, use separate lines, equipment, rooms, or even facilities where necessary
Develop an allergen matrix or changeover grid to identify what practices or production changes need to be made between flavors or products (spray down or full clean up)
Provide lockouts on equipment that uses or supplies allergenic ingredients
When sampling the product in process, be certain that the sampling device is sanitized appropriately between products
Allow adequate clean up time between production
Packaging and Labeling
Verify level accuracy; update to reflect current formula
Ensure compliance with labeling regulations which generally requires declaration of all ingredients; exception to this includes spices, some colors, flavors and processing aids and incidental additives at insignificant levels or that have no technical function or effect. Allergenic ingredients are never exceptions, they MUST be declared at any level - there is no "insignificant level"
Check labels on incoming ingredients; supplier may have sent the wrong product or may have used the wrong label
Limit use of precautionary labeling (such as "may contain") in lieu of good manufacturing practices. Do not list ingredients that are not in the formula
Consider cross-contact potential on packaging / portioning utensils
Sanitation
Have standardized procedures for sanitation operations (SSOP's) and ensure they are followed
Use appropriate cleaning methods (detergents/cleaning chemicals, water, and sanitizer)
Ensure proper storage of clean items
Specify employee practices - hand washing at appropriate times (for example, after handling a product that contains allergens, such as peanuts); proper hand washing procedures; use of clean clothing/aprons / gloves and when to change
Display / Service
For bulk food displays, use dedicated trays or display areas, post notification of allergen hazards with signs at point of display, and place foods with allergens towards the bottom
If foods with allergenic ingredients can not be adequately separated, offer only as packaged food
For in-store demonstrations, prominently display the ingredient list and do not provide product to unaccompanied children
Consider a sign or menu statement that individuals with food allergies, intolerance or sensitivities may request information about the ingredients of anything served or sold (all employees should be trained and have access to this information)
Staff Training / Education 
Ensure all employees have an understanding of allergens, the hazards of undeclared allergens on labels, and the ability to identify common allergens in all foods sold
Train employee groups on specific allergen concerns; kitchen employees need to understand about cross-contact potentials, service staff need to have ingredient lists available when customers inquire. It is better for them to say they don't know if an ingredient is included than to risk a customer's health
Points to include in a training program:

define allergens
consequences to sensitive people
importance of allergen control
most common areas where problems occur
accurate labeling
control measures
Food manufacturers and retailers must properly label food products that contain ingredients, including flavoring, coloring, or incidental additives that are, or contain, protein from a major food allergen using plain English to identify the allergens. This can be accomplished in one of two ways.
1. Include the name of the food source in parenthesis following the common or usual name of the major food allergen in the list of ingredients in instances when the name of the food source of the major allergen does not appear elsewhere in the ingredient statement. For example:

Ingredients: Enriched flour (wheat flour, malted barley, niacin, reduced iron, thiamin mononitrate, riboflavin, folic acid), sugar, partially hydrogenated soybean oil, and/or cottonseed oil, high fructose corn syrup, whey (milk), eggs, vanilla, natural and artificial flavoring) salt, leavening (sodium acid pyrophosphate, monocalcium phosphate), lecithin (soy), mono-and diglycerides (emulsifier)
2. Place the word "contains" followed by the name of the food source from which the major food allergen is derived, immediately after or adjacent to the list of ingredients, in type size used for the list of ingredients. For example: 
Contains Wheat, Milk, Eggs, and Soy 
For additional information, visit Food Ingredients that May Cause Allergies