The MDA partnered with the
East Otter Tail Soil and Water Conservation District
(SWCD) to carry out a series of irrigation workshops and programs to promote proper water and nitrogen fertilizer management. While the workshops have ended the information gained provides a foundation for continued nitrogen management work. Existing and new tools continue to evolve to assist Minnesota irrigators.
---
Tools and Resources
Central Minnesota Ag Weather Network & North Dakota Ag Weather Network (NDAWN)
Through a collaboration with NDAWN all 14 Central Minnesota ag weather network stations are now included in the NDAWN network. This brings the total number of Minnesota weather stations in the NDAWN network up to 38, covering both Central and northwestern Minnesota. In addition to current weather data access, all Minnesota weather stations are integrated into the NDAWN crop modeling, mapping, and air temperature inversion applications bringing even more tools to Minnesota producers. The daily crop water use data provided by these stations is critical for growers to efficiently schedule their irrigation water applications.
Precision Irrigation Cost-Share
The precision irrigation cost-share program provides financial and technical support to irrigators looking to adopt and integrate proven precision irrigation technology and nitrogen management practices to help optimize irrigation system operation. This will help address groundwater quality and quantity issues under irrigated cropland.
Online Irrigation Management Assistant
An online irrigation scheduling tool is now available to ten counties in Central Minnesota. The tool provides irrigation scheduling recommendations based on information provided by the ag weather network and individual users. Data used includes evapotranspiration information, field specific soils information, weather service rainfall data, and user defined crop and irrigation system details. Using this information the tool creates recommendations that reflect what is going on in the individual field. The tool is easy-to-use and accessible on mobile devices. Visit the Irrigation Management Assistant webpage to sign-up.
One-on-One Irrigation Scheduling Program
East Otter Tail SWCD offers one-on-one service and works with individual farmers to schedule proper irrigation management. To learn more about one-on-one training, please contact the East Otter Tail SWCD at 218-346-4260 extension 3.
---
Irrigation Outreach and Irrigation Workshops
Ensuring that Minnesota irrigators have the proper technical tools and training is critical to the long-term protection of groundwater resources.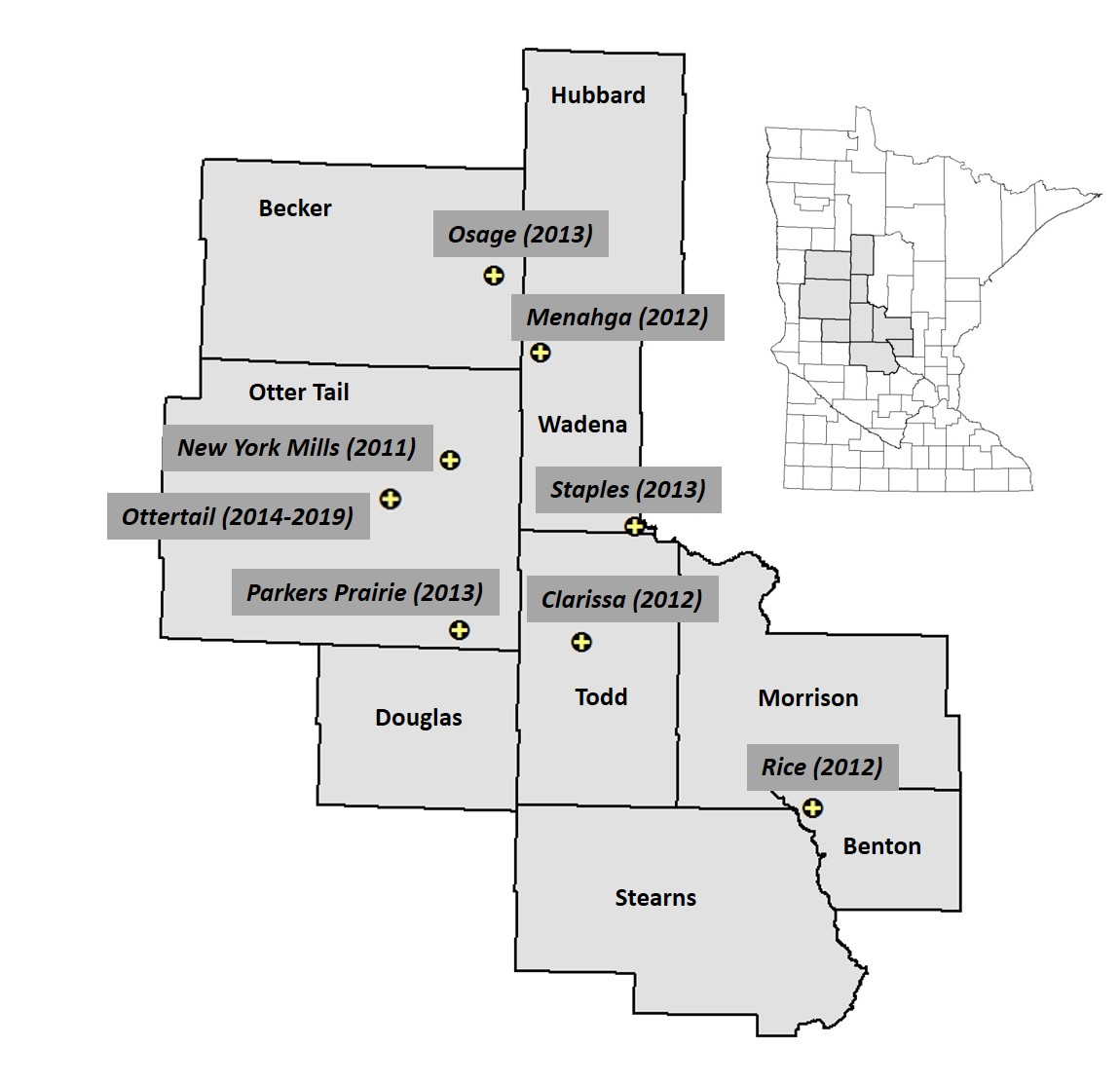 Workshop History
The MDA and East Otter Tail SWCD developed curriculum and hosted the first workshop in 2011 (New York Mills, MN). The hands-on program engaged participants and addressed the combined topics of nitrogen and fertilizer management. The workshop was well received and emphasized a need for more. To meet this need, three central Minnesota workshops were held in both 2012 and 2013. In 2014-2018, one larger workshop was held. The presentations were split between irrigation and nitrogen management.
Workshops included speakers from the MDA, NRCS, local SWCDs, the University of Minnesota Extension, and irrigation industry representatives. Topics covered included:
Irrigation Water Management
Soil Moisture Assessment
Nitrogen Management on Sandy Soils
Soil Health and Moisture Holding Capacity
Area Groundwater Nitrogen Concerns
Workshop Summaries and Resources
Workshop summaries and resources are available upon request. Please contact Luke Stuewe at Luke.Stuewe@state.mn.us or 218-850-9454.
---
On-Farm Nitrogen Management Program
Partners also supported an on-farm nitrogen management program to encourage producers to:
Implement management actions
Monitor the actions
Use the results to adjust future management
The program was based on the corn Basal Stalk Nitrate Test (BSNT). The test was used to determine how much nitrogen was leftover at the end of the growing season.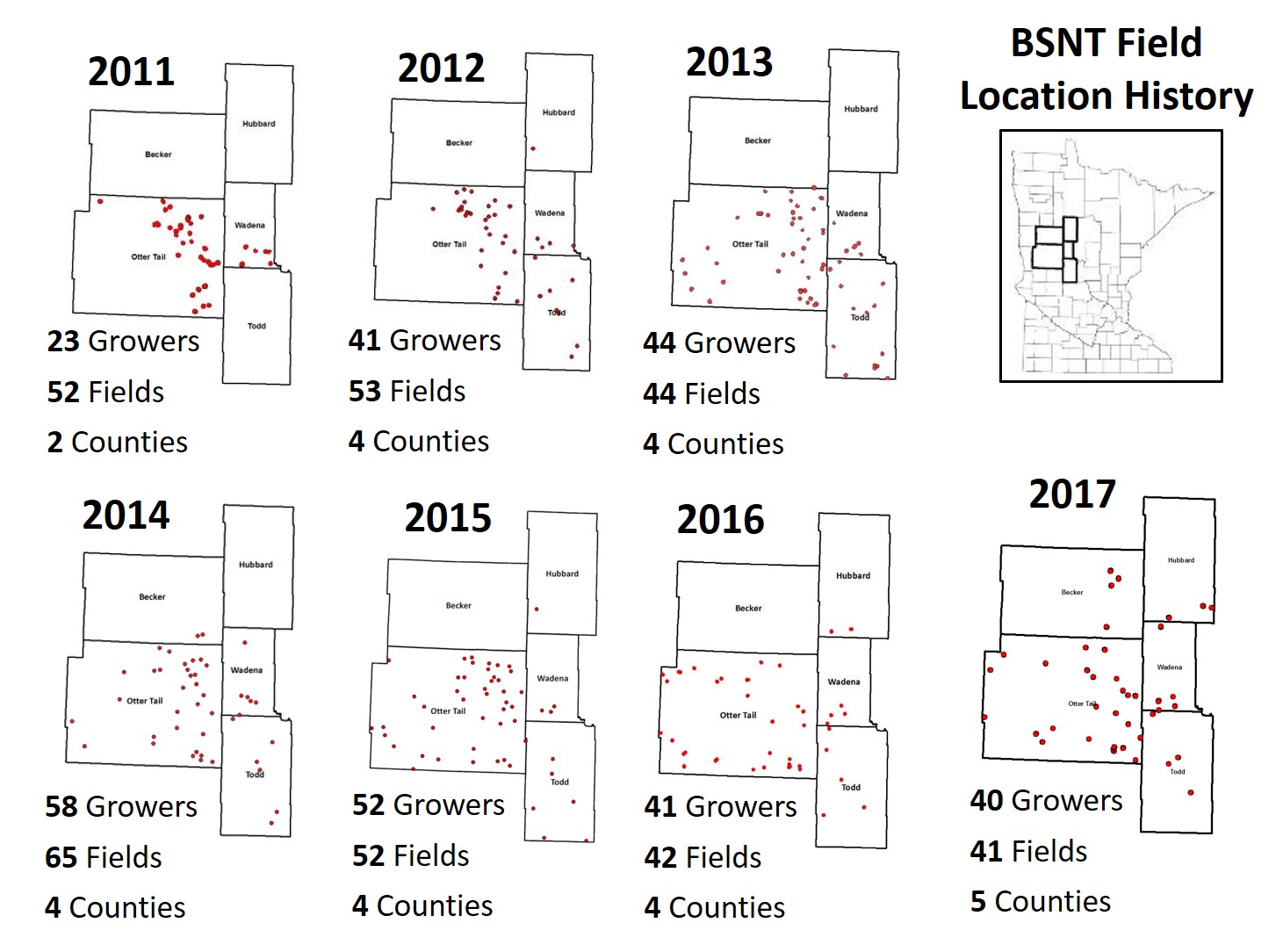 Stalk samples were taken when the corn crop was showing stress. Aerial images, taken by plane, were used to determine this timing. Sampling typically occurred during mid-to-late August. Each producer enrolled in the program received a copy of the imagery, the stalk sample results from their field, and an annual program summary. The summary included data from all program participants. Participants were invited to a follow-up meeting in the winter to review data and discuss possible management changes that could improve the efficiency of nitrogen use in their field. 
Why is nitrogen management important?
The MDA water monitoring data indicates that high groundwater nitrate-nitrogen levels exist in central Minnesota and that nitrate levels have steadily increased in this region over the past two decades. The sandy soils in this area are a major factor contributing to the elevated groundwater nitrate levels. Proper irrigation water and nitrogen management are critical where vulnerable groundwater aquifers are prevalent.
The information shared through this program provided Minnesota irrigators with the knowledge, tools and technology to make informed decisions to minimize negative environmental impacts while increasing profitability. The MDA will continue to work with irrigators to prevent groundwater contamination under the guidance of the Nitrogen Fertilizer Management Plan.
---
Partners