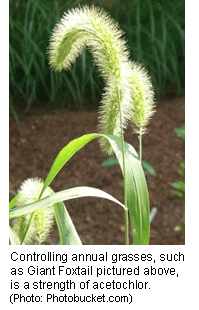 Acetochlor is a herbicide widely used on corn in Minnesota, and its use has expanded to soybeans and sugar beets. Common trade names for acetochlor products include Harness, Keystone, SureStart, Surpass, Volley and Warrant*. In 2016, it was applied to 56% of Minnesota corn acres, making it the second-most-used corn herbicide in the state in terms of acres covered (see Pesticide Use in Minnesota). Depending on the specific acetochlor product label, it is registered in Minnesota for use on field corn, popcorn, production seed corn, silage corn, sweet corn, soybeans, and sugar beets.
Acetochlor controls weeds by inhibiting growth of seedling shoots. It needs to be applied before weeds germinate to be effective; therefore, it is typically applied just before or after planting. Acetochlor provides good control of most annual grassy weeds and a number of annual broadleaf weeds. Its control of perennial weeds is limited to yellow nutsedge (Weed Control Guide, Ohio State University Extension, 2018 -  PDF). It is often used in combination with other herbicides to obtain "broad-spectrum" weed control. Atrazine is the most common premix partner with acetochlor (Table 3).
Other preemergence corn herbicides which provide weed control similar to acetochlor include dimethenamid-P (Outlook, Slider), S-metolachlor (Charger, Dual II Magnum, Cinch), and pendimethalin (Prowl)* and many others. (Trials comparing herbicide systems for weed control in field corn, University of Minnesota).
Acetochlor is in the chloroacetanilide herbicide family which also includes the herbicides alachlor, dimethenamid, and metolachlor. It is in herbicide Site of Action Group 15, known as long-chain fatty acid inhibitors (Herbicide Classification Poster, Mode of Action, January 2017 - PDF), acetochlor had been found at concentrations of concern in south-central Minnesota streams. One water body, the Silver Creek located in central Minnesota, is on the state's impaired water list due to elevated concentrations of acetochlor.
Acetochlor is currently not a Restricted Use Pesticide (RUP); therefore, no special certification is needed for its use unless it is being applied for hire or if it is being used in combination with a Restricted Use Pesticide such as atrazine. If acetochlor is being applied for hire or used in combination with a Restricted Use Pesticide, pesticide applicators need to be licensed or certified by the MDA, a process which includes passing an exam on proper pesticide use.  Please view Minnesota's pesticide applicator certification and licensing programs for more information.
* No endorsement is implied and no discrimination is intended in the referencing of commercial products or trade names.