PROJECT GOAL: Improve agricultural production and reduce flooding losses while minimizing the unwanted environmental impacts of subsurface drainage.
PROJECT OBJECTIVE: Demonstrate controlled tile drainage as a flood mitigation practice as well as the water quality and quantity benefits. The project is intended to set an example to increase the adoption of drainage water management practices in the Red River Valley. 
Project Details
Project partners are evaluating drainage water management on operating farms in the Red River Valley.  Additional information, including study design and monitoring results, can be found in the project fact sheet below.  
Red River Valley Drainage Water Management Project Fact Sheet (PDF)
What is DWM?
Drainage water management (DWM) or controlled drainage, helps producers manage water on their fields.  This practice can increase crop production, keep nutrients on the field and send cleaner water downstream.
Producers control the water by raising or lowering the elevation of underground drainage.  Water can temporarily be held back within the root zone for later use by the crop or it can be released to drain the field for planting.
View a video of the DWM process and benefits.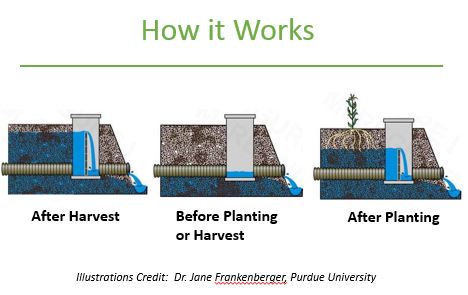 Why the Red River Valley?
The Red River Valley, in northwestern Minnesota, has experienced an increasing amount of subsurface (tile) drain installation. Subsurface drainage is common in other areas of the state, however it is becoming more widespread in this region. This project allows regional farmers to see how DWM works in their own "backyard".
Partners

This project is a unique collaborative effort between landowners, multiple government agencies, agricultural businesses and the University of Minnesota. All groups working together to increase the understanding of these practices and the impacts they have on water quality.
The MDA is grateful for the continued interest and support from local landowners. Their desire to participate in research and share their farm for educational purposes is appreciated.