Clean Water Funds are being used to support a University of Minnesota Extension Irrigation Specialist position that was phased out several years before the Clean Water Land and Legacy Amendment was passed. This position provides direct support to irrigators on irrigation scheduling and soil water monitoring. These tools help reduce nitrogen leaching losses in irrigated cropping systems.
The hiring of an Irrigation Specialist at the University of Minnesota was identified as a critical need by the irrigation community and other ag stakeholders during the 2011 Forum on Minnesota Irrigated Agriculture.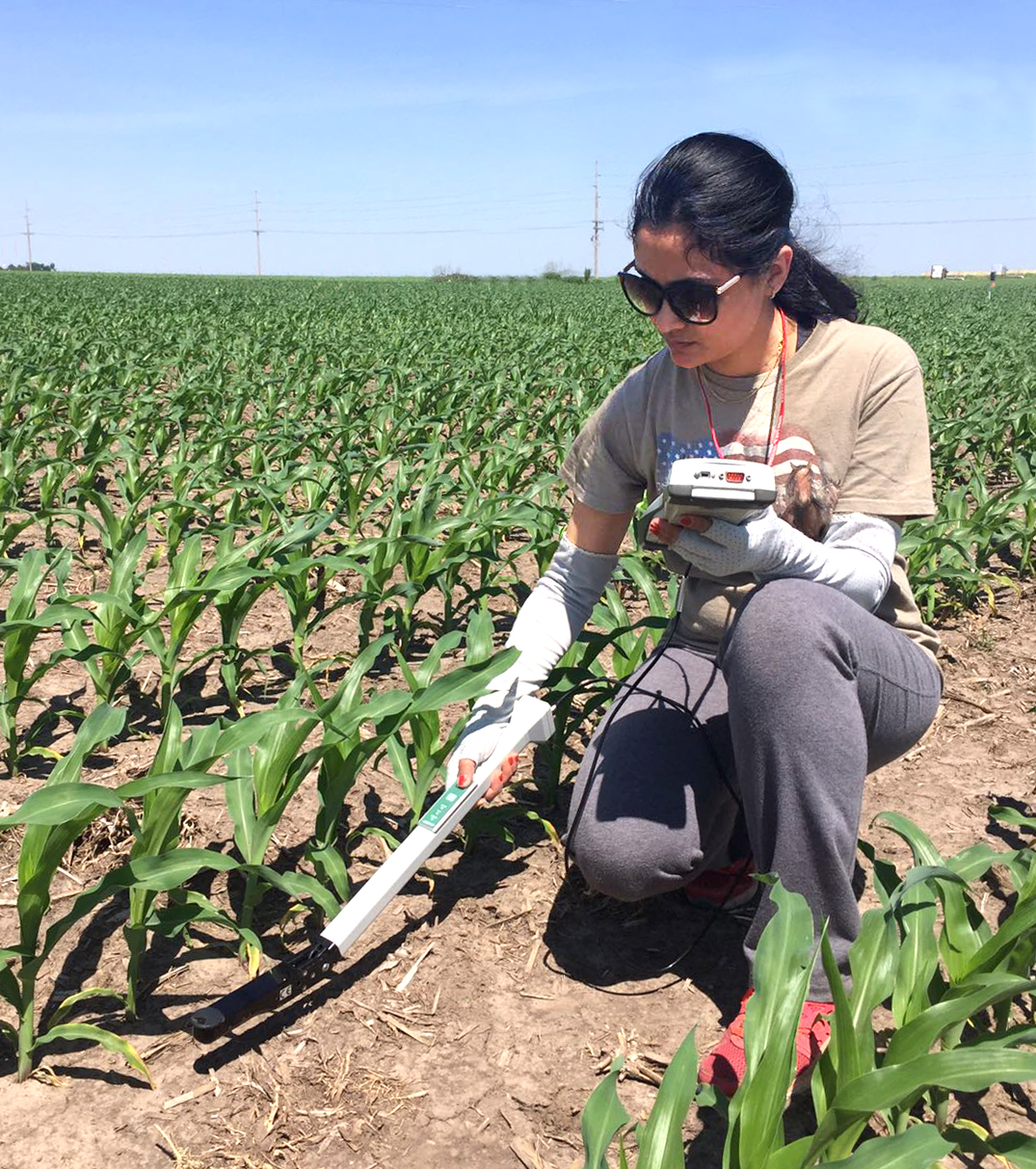 Vasudha (Vasu) Sharma has served as the the University of Minnesota's Irrigation Specialist since July 1, 2018. She earned her Ph.D in Biological Engineering at the University of Nebraska where her studies focused on the impact of variable rate irrigation and fertigation on corn yield, crop water use, and water productivity.
Dr. Vasu Sharma, Irrigation Specialist
University of Minnesota
439 Borlaug Hall
1991 Upper Buford Circle
Saint Paul, MN 55108-6028
Irrigation Extension Specialist Activities:
On-going communication with crop irrigators, irrigation equipment suppliers, and water managers to assess education and research needs.
Design, develop, deliver, and evaluate a cropland irrigation educational program.
Utilize websites, publications, electronic messaging, workshops, in‑field demonstrations, and noncredit courses as ways to reach the greatest number of irrigators.
Expand and update evapotranspiration (ET) weather stations and irrigation scheduling tools to meet current needs and technology.
Conduct applied research on irrigation technology to improve water use efficiency, sustain agricultural production, and enhance protection of water resources.
Develop and update a series of irrigation best management practices (BMPs) related to water scheduling techniques such as soil moisture monitoring, plant moisture stress monitoring, and tools needed to determine real-time deficits.
Work closely with other university, industry, and agency staff in the area of water and nitrogen management.
Current Research
Dr. Sharma is currently working on a project to evaluate four irrigation scheduling methods. The project goal is to identify and develop irrigation strategies that increase crop water use efficiency and reduce nitrate leaching without impacting crop yield.