When paying a licensing or other fee to MDA with your checking account ("e-check"), it is critical to keep track of your Payment ID in order to finalize your transaction with our banking partner. The Payment ID is a security measure.  It is randomly assigned by our licensing system and no one has access to it except you.  If you cancel at any point during your online application and restart the process, this number will change.
During the application process, the Payment ID# appears at approximately the third page of the process (depending on the license type). It will always be on the page with a chart of the license(s) you are applying for and the amounts due, at the point where the options are to "Add Another Item" or to "Enter Payment Information". The Payment ID # is just above the chart of the licenses you are applying for.  If you did not make note of the payment ID you have 2 options:
Try the "Back" button on your internet browser. If your browser will allow you to back up to the page where you can retrieve the ID#, this is your best bet: you can retrieve your ID and proceed to re-enter payment information.
If you cannot back up to the page with the Payment ID, then cancel the transaction, close your internet browser, and start from scratch. You will get a new Payment ID to work with.
The screen shot below shows an example licensing payment with the Payment ID circled.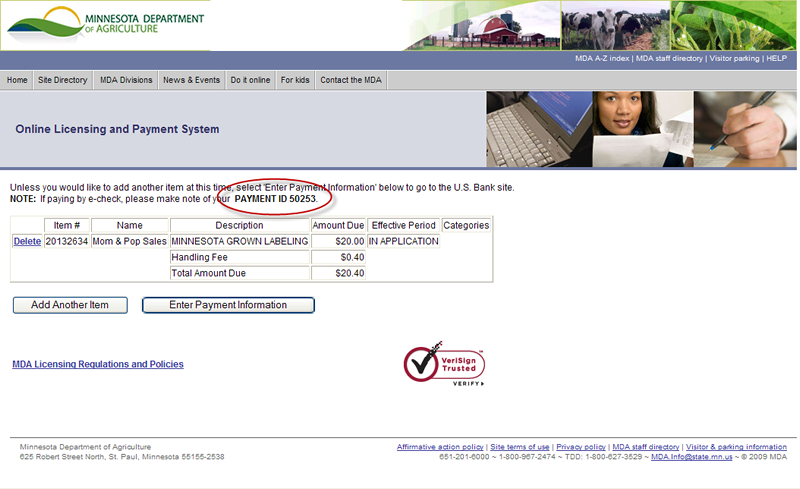 For questions or further help, please send your Minnesota Department of Agriculture license, certificate, or permit number and detailed question to the Core Data Coordinator at LIS.Info@state.mn.us. If your question is in regards to a Driver's License, please visit the DMV website.