A Minnesota Commercial Feed License is required before a person may:
manufacture a commercial feed in Minnesota;
distribute a commercial feed in or into the state; or
have the person's name appear on the label of a commercial feed as guarantor.  
Who Needs a Commercial Feed License?
Anyone in Minnesota who is making animal feed they intend to distribute to others.  If you are only making animal feed for personal use a license is not required. 
Anyone inside or outside of Minnesota who distributes animal feed to others in Minnesota. Retail-only locations do not need a license.
Anyone inside or outside of Minnesota who has their name and address on the label of an animal feed product distributed in Minnesota.
Feed licenses are unique to each location. If you open a second qualifying location, you would need a second license.
How Long Does a Commercial Feed License Last?
You must get a feed license before doing any of the above activities.
A feed license is valid from January 1 to December 31 and must be renewed annually in order to continue any of the above activities.
How Much Does a Commercial Feed License Cost?
A feed license costs $75.OO. 
There is a $100.00 penalty fee for anyone who fails to get a license or renews after the December 31 deadline.
How Do I Get a Commercial Feed License?
What is a Tonnage Fee?
Tonnage fees must be paid annually for all animal feed, feed ingredient, and feed additives manufactured in Minnesota.
The tonnage fee is 16 cents/ton or $75.00 (whichever is greater) and is due by January 31.
Pet and specialty pet food sold exclusively in packages of 10 lbs. or less is exempt from tonnage fees. These products must instead be registered with the Minnesota Department of Agriculture on an annual basis. See the Pet Food unit page for more details on product registration.
Minnesota's Commercial Feed law applies to all commercial manufacturing and distribution activities involving feed, feed ingredients and feed additives for all animals, including livestock, aquaculture, pets and specialty pets. The Minnesota Department of Agriculture's Commercial Feed Program licenses persons manufacturing and/or distributing commercial feed in or into the state of Minnesota, processes inspection fees (tonnage fees) and registers small package pet and specialty pet food products.
2023 Commercial Feed Tonnage Fee Exemption Permit Holders
 

| Company | City | State | License # |
| --- | --- | --- | --- |
| CHS Inc | Inver Grove Heights | MN | 20121094 |
| Key Ingredients Inc | Plymouth | MN | 2046126 |
| Melrose Dairy Proteins | Melrose | MN | 20181275 |
| Network Trading LLC | Nerstrand | MN | 20192044 |
| Purina Animal Nutrition LLC | Shoreview | MN | 20141129 |
| Ridley USA Inc dba Hubbard Feeds | Mankato | MN | 20171192 |
| RPMG Inc | Shakopee | MN | 20105613 |
| Stone Arch Commodities LLC | Minneapolis | MN | 20182335 |
| US Commodities LLC | Minneapolis | MN | 20103753 |
| Viterra USA Ingredients LLC | Omaha | NE | 20253392 |
The inspection fee exemption list is subject to change.
Inspection fees owed to the Minnesota Department of Agriculture (MDA) on product tons distributed to the entities listed will be paid by the purchaser, not the supplier. A supplier can confirm a purchaser's fee exemption status by requesting a copy of their exemption permit. Exemption permits are location/license specific.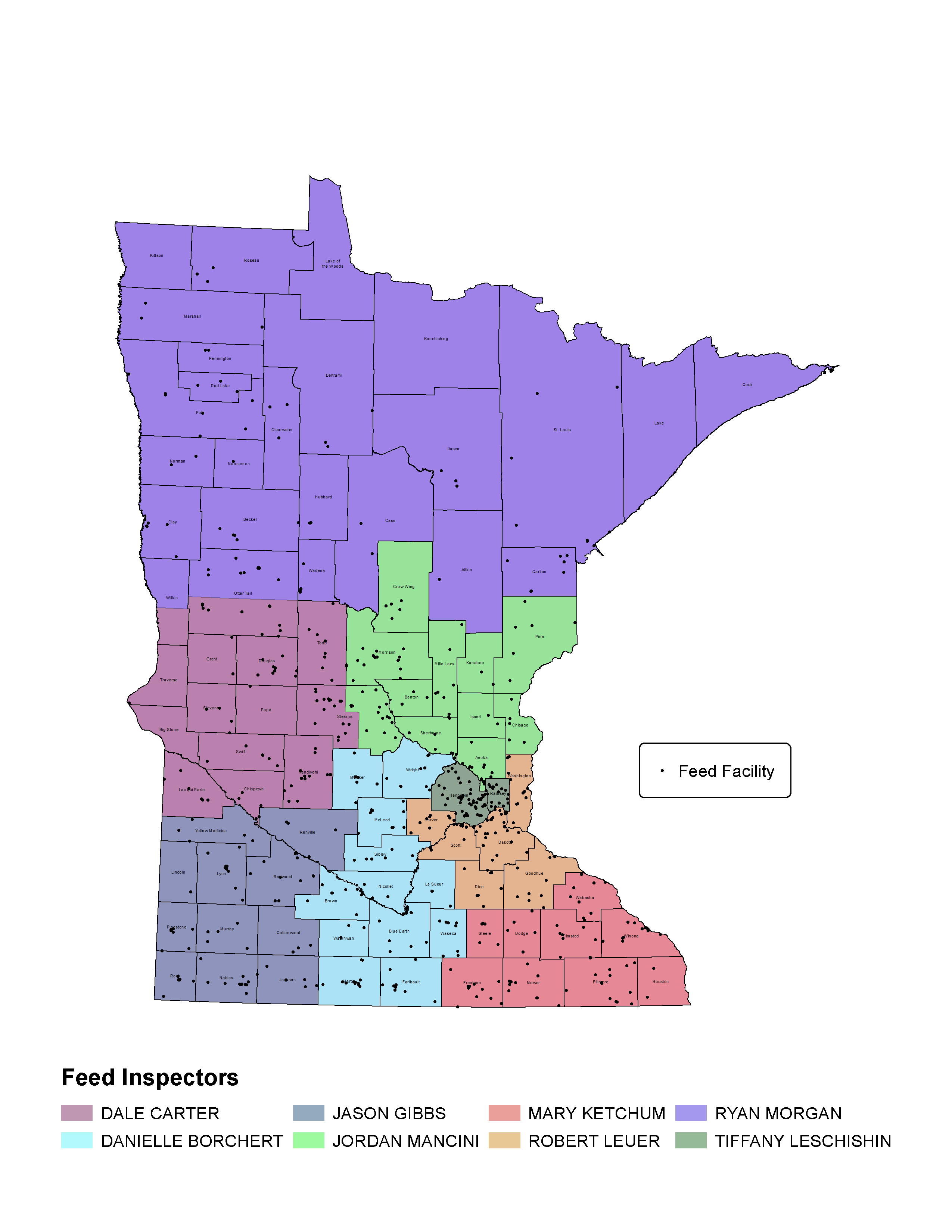 Partnership Agreement with the FDA
The MDA Food and Feed Safety Division (FFSD) signed a Partnership Agreement with the US Food and Drug Administration (FDA) in March 2022. This Partnership Agreement will enhance Domestic Mutual Reliance to enable the FDA and state agencies with comparable regulatory public health systems to rely on, coordinate with, and leverage each agency's work, data, and actions to meet the public health goal of a safe national food supply. Additional information can be found on the FDA's Partnership Agreement website and at Domestic Mutual Reliance Work in Human and Animal Food West Division 1.