General Quarantine Information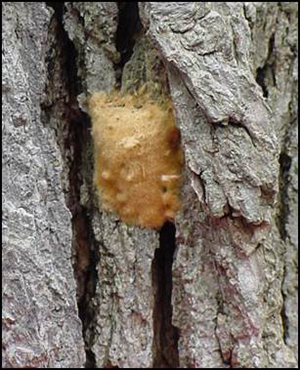 Lake and Cook counties are quarantined for gypsy moth, and have been so since July 1, 2014 (Formal quarantine language).

A quarantine limits the movement of certain items out of a designated area. Quarantines are an effective tool in managing gypsy moth and slowing its spread across the U.S. and Minnesota.

Gypsy moths are expert "hitchhikers" and are most commonly transported as egg masses. The females will lay her eggs on any solid surface.

Under the gypsy moth quarantine the following articles are regulated:

Quarantine violations occur when companies or individuals transport regulated articles out of the quarantined area without appropriate documentation and can result in civil or criminal penalties. Entities that regularly move regulated articles can continue to do so if they are operating under a compliance agreement.

A compliance agreement is a formal agreement between the State and the entity to follow standard operating procedures to limit the risk of spreading the gypsy moth. To obtain a compliance agreement, please contact Arrest the Pest at: 888-545-6684 or email gypsymoth@state.mn.us.

The gypsy moth, Lymantria dispar L., in any stage of development (egg, larva, pupa, adult)
Logs, posts, sawbolts, and pulpwood
Bark and bark products
Nursery stock
Christmas trees, boughs, wreaths and garland
Firewood for commercial sale and residential use
Outdoor household articles
Mobile homes and associated items
Any other products, articles, or means of conveyance that present a high risk of artificial spread of gypsy moth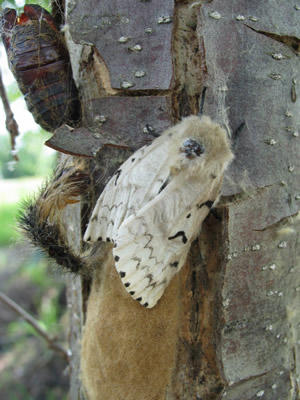 Distribution: Quarantine Maps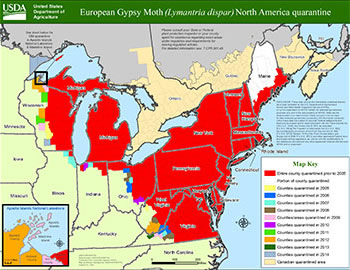 Information for lumber, nursery and other industries:
All untreated regulated articles, such as pulpwood or bark for fuel, must be accompanied by a limited permit when exiting quarantined areas. Untreated regulated articles can only be transported to specified locations in accordance with specialized conditions. 

All MDA limited permits expire annually on April 30th.To obtain a limited permit, individuals must attend annual compliance training provided by the MDA. Compliance trainings are conducted within quarantined counties annually during the month of April.

Compliance trainings are offered on the first Tuesday of each month (or by appointment) at the Minnesota Department of Agriculture headquarters in St. Paul (625 Robert Street North, St. Paul, MN 55115). Participants must register at least one week prior to the training session that they wish to attend by sending an email to gypsy.moth@state.mn.us.

 Nursery stock

Nursery stock shipped out of a quarantine by a nursery or dealer must be treated or visually inspected and certified pest-free. Shippers must be operating under a compliance agreement with state or federal agriculture agencies prior to moving stock.

Christmas Trees

Trees cut in a gypsy moth quarantined area must be treated during the growing season prior to shipping.  Growers operating under a compliance agreement are eligible to certify, document, and ship loads.

Logs, Posts, Pulpwood, Bark and Bark Products

Shippers operating under a compliance agreement must document all loads leaving the quarantine and specify the destination.  Treat or remove any life stages found upon inspection.  Receivers of quarantined products must operate under a compliance agreement and follow the guidelines set within for processing procedures.
Information for tourists and homeowners:

Outdoor Household Articles (patio items, camping equipment, firewood, etc.)
Self-inspection of all outdoor household articles using this checklist is required in order to move them out of the quarantine. Treat or remove any life stages found upon inspection. Before moving, check for the gypsy moth and complete the APHIS gypsy moth check list form while homeowners are packing up household goods to move interstate. For residents using a moving company or portable storage, the completed checklist must accompany the shipment.
Mobile Homes (RVs, mobile workspaces, etc.)
Inspection and documentation are required prior to moving outside of the quarantine.  Qualified Certified Applicators or state/federal agriculture agencies may provide inspection assistance.
Gypsy Moth in Minnesota
The MDA, in partnership with federal, state, tribal, and local officials, has been trapping gypsy moth since 1973 and treating since 1980. Since the first northern Minnesota treatments around Schroeder in 2006, the MDA has taken action to prevent and stifle the growth of gypsy moth populations in Lake and Cook Counties. Populations have now grown to a point where treatments are ineffective and the MDA has to turn to other management strategies to contain the infestation.

The first gypsy moth quarantines were enacted in 1912 in New England. Minnesota is the 21st state to be quarantined for this invasive species. Quarantines in other states have benefited Minnesota's forest resources by keeping them gypsy-moth free until now. Minnesota's gypsy moth quarantine will protect uninfested forests to the west and south.
For questions on gypsy moth or the quarantine, call MDA's Arrest the Pest Hotline at 888-545-6684 or email gypsy.moth@state.mn.us.