October 11, 2019
Ruck's Meat Processing, of Belle Plaine, Minn., is voluntarily recalling cured smoked beef that may be contaminated with metal fragments.
After receiving a complaint from a consumer who found a metal fragment in a piece of cured smoked beef, all of the product has been removed from store shelves.
The MDA and the company have not received any reports of adverse reactions or illness due to consumption of this product.
Ruck's Meat Processing cured smoked beef subject to this recall bears the establishment number "8921" inside the State of Minnesota mark of inspection and a date of "10-4-2019" on the label.  
Ruck's Meat Processing cured smoked beef products were sold at the Minnesota's Largest Candy Store in Jordan, Minn.
Consumers who purchased this product should throw it away or return it to Ruck's Meat Processing. Consumers with questions about the recall can contact Ruck's Meat Processing at (952) 873-2848.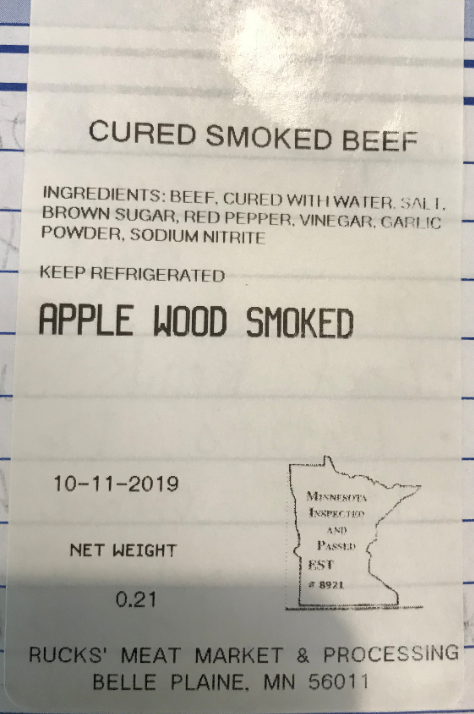 ###
Media Contact
Allen Sommerfeld, MDA Communications
651-201-6185
Allen.Sommerfeld@state.mn.us