October 24, 2017
A&M Processing, a Hamburg, MN establishment, is voluntarily recalling approximately 30 pounds of ring bologna product that may be adulterated with Listeria monocytogenes. During routine sampling, Minnesota Department of Agriculture (MDA) inspectors discovered the product was processed in a manner that could result in possible Listeria contamination.
The MDA and the company have not received any reports of adverse reactions or illness due to consumption of this product.
The A&M Processing product subject to this recall is ring bologna with a "packed date" of 10-4-2017. The product also bears the establishment number "625" inside the State of Minnesota mark of inspection and a "use by date" of 11-14-2017 on the label. Thirty (30) pounds were produced in the batch and 18 pounds have been accounted for.
The ring bologna was sold at the following locations:
Radermacher's Fresh Market, Jordan, MN
Glencoe Co-op Association, Glencoe, MN
United Farmer Co-op Green Isle, Green Isle, MN
Econofoods, Norwood Young America, MN
Glenn's Supervalu, Winsted, MN
Consumption of food contaminated with Listeria monocytogenes can cause listeriosis, an uncommon but potentially serious disease marked by fever, severe headache, neck stiffness and nausea. Healthy people rarely contract listeriosis, but it can sometimes cause fatal infections in infants, the elderly, and those with weakened immune systems. Listeriosis can also lead to miscarriages and stillbirths in pregnant women.
Anyone concerned about illness should contact a healthcare provider. Consumers who purchased this product should throw it away or return it to the store. Consumers with questions about the recall can contact A&M Processing at 952-467-3261.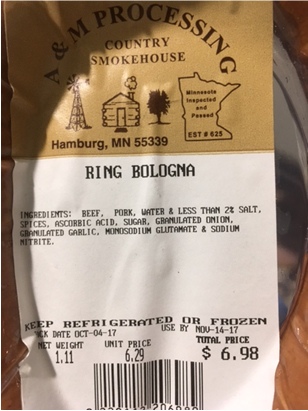 ###
Media Contact 
Margaret Hart, MDA Communications Director 
651-201-6131 
Margaret.Hart@state.mn.us