February 8, 2019
The Minnesota Department of Agriculture (MDA) and partner organizations are planning to tackle a gypsy moth infestation in the east side of the city of Chisholm this spring. In anticipation of the proposed treatment, the department is inviting people to learn about the effort at an informational meeting on February 20 at Chisholm City Hall.
Gypsy moths are ranked among America's most destructive tree pests. The insect has caused millions of dollars in damage to forests as it has spread from New England to Wisconsin in recent decades. Gypsy moth caterpillars can defoliate large sections of forest. The pests are common in Wisconsin and are now establishing themselves in Minnesota.
The MDA maintains a monitoring program to watch for start-up infestations, and when an infestation is found, the department conducts aerial treatments of the infestation before it can spread. In 2018, the MDA found an infestation in the residential neighborhood to the east of Longyear Lake. The department is now developing a treatment plan for a 135 acre affected area centered near the intersection of 5th Street NE and 5th Avenue NE. More information on the proposed treatment area can be found on our Gypsy Moth Treatments webpage.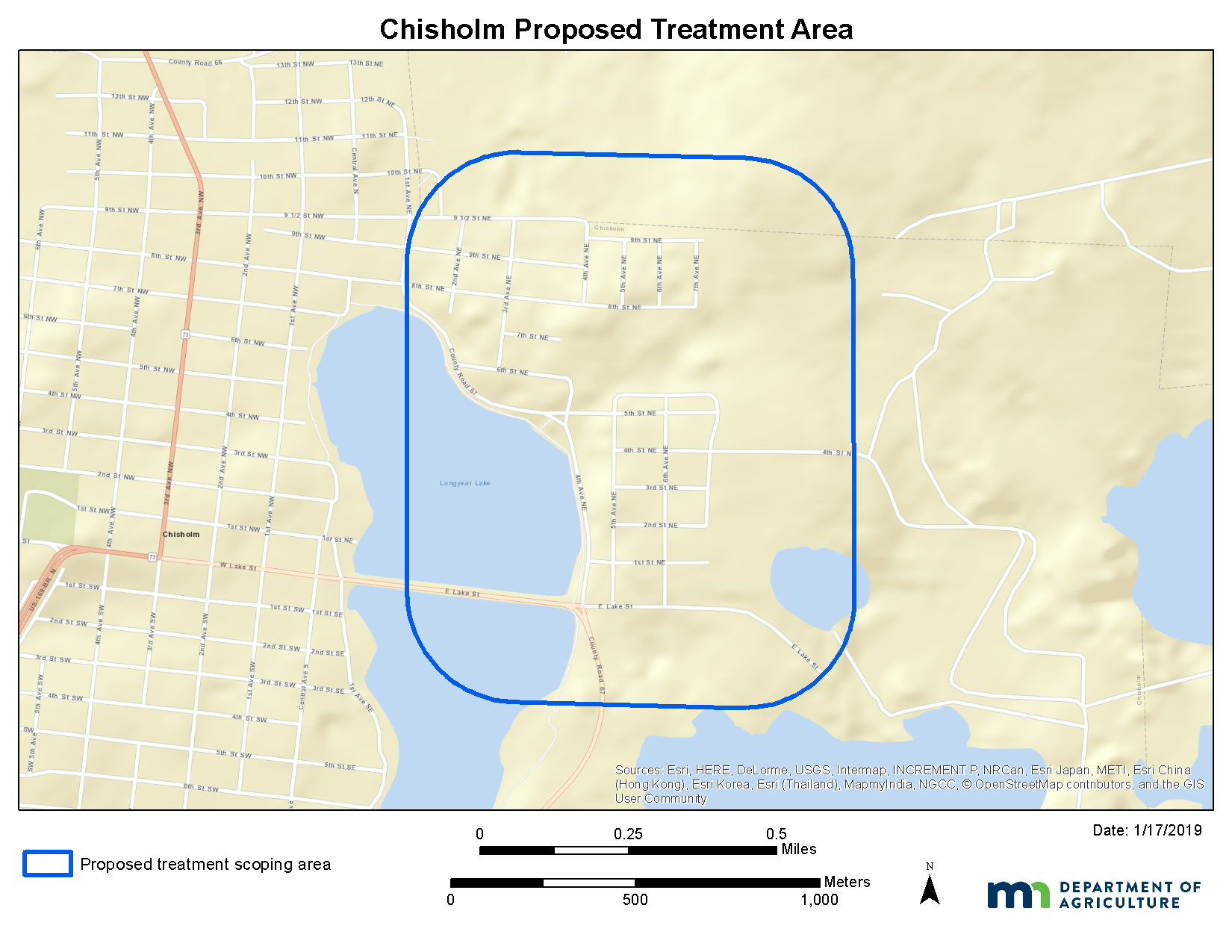 The MDA will host an open house from 5:30 – 6:30 p.m. on February 20 to share information with citizens about the threat gypsy moths pose to the environment and how officials plan to protect the urban forest.
Meeting details:
Wednesday, February 20, 2019
5:30 – 6:30 p.m.
Chisholm City Hall
316 W Lake Street
Chisholm, MN 55719
Over the years, the MDA has successfully treated dozens of gypsy moth infestations across eastern Minnesota from Grand Portage to the Twin Cities to Houston County, including treatments in Duluth and Two Harbors in 2018 and Ely in 2016. These successful treatments help postpone the full-scale invasion of gypsy moth, saving local communities and homeowners money and protecting the health of the state's urban and natural forests. For more information on the proposed treatments, go to our Gypsy Moth Treatments webpage.
###
Media Contact
Allen Sommerfeld, MDA Communications
651-201-6185
allen.sommerfeld@state.mn.us