April 22, 2018
The Minnesota Department of Agriculture (MDA) is issuing a consumer advisory for freeze-dried, uneviscerated sardines sold by OC Raw Dog of Santa Margarita, CA, because it has the potential to be contaminated with Clostridium botulinum, a bacterium which can cause botulism, a life-threatening illness that can affect pets that have consumed the product or people who have handled it. The product is intended as a pet treat or supplement for dogs and cats.
OC Raw Dog was notified by the MDA after a sample of OC Raw Dog Freeze Dried Sardines were collected and determined to contain uneviscerated or intact un-gutted fish that measure 6 to 6 1/2 inches which is greater than FDA guidelines of 5 inches for uneviscerated fish.
The product was packaged in a 3.2-ounce package labeled "OC Raw Dog Freeze Dried Sardines". All "sell by" dates of this product are affected. The product was sold at pet food stores throughout Minnesota including, but not limited to:
4 Perfect Pets in Oakdale, MN
Atlas Pet Supply in Blaine, Elk River, and Stillwater, MN
Canine Crossing in Andover, MN
Chuck & Don's in Savage, Coon Rapids, and Chanhassen, MN
Farmers Feed Supply in Owatonna, MN
Federated Cooperative in Isanti, MN
Floodwood Farm and Feed in Floodwood, MN
Leedstone, Inc., in Melrose, MN
Pet Evolution in Woodbury, MN
Pet Expo Distributors in Mankato, MN
The Pet Authority, Inc., in Albert Lea, MN
Urban Tails Pet Supply in Minneapolis, MN
Locations where the product may have been sold can also be found on the product manufacturer website: https://ocrawdog.com/where-to-buy/.
Consumers should discard the product and are warned to not feed the product to pets even if it does not look or smell spoiled. There have been no reports of illness in dogs, cats, or persons associated with this product.
Botulism, a potentially fatal form of food poisoning, can cause the following symptoms in dogs and cats: weakness starting in hind legs and ascending to the trunk, front legs and neck; severe weakness or paralysis of all four limbs; vision problems; or difficulty chewing, swallowing, or breathing. If you've identified these symptoms in your pet, seek immediate veterinary attention.
Separately, OC Raw Dog is recalling Lot #3652 of "OC Raw Dog Chicken, Fish & Produce" after the New Jersey Department of Food and Agriculture reported having found Listeria monocytogenes in a sample of the product.
The recalled product was packaged in the following formats and bears a "Use By" date of 10/11/18. It was shipped to California, Colorado, Florida, Maryland, Minnesota, Pennsylvania and Vermont:
OC Raw Dog Chicken, Fish & Produce Meaty Rox, 3 lb. UPC 022099069171
OC Raw Dog Chicken, Fish & Produce Doggie Sliders, 4 lb. UPC 095225852640
OC Raw Dog Chicken, Fish & Produce Doggie Dozen Patty Bag, 6.5 lb. UPC 022099069225
OC Raw Dog Chicken, Fish & Produce Meaty Rox, 7 lb. UPC 095225852756
OC Raw Dog has worked with the FDA and has issued recalls for both products www.fda.gov/Safety/Recalls.
Pet owners should wash hands and surfaces thoroughly after handling raw pet food, and clean and disinfect all surfaces that the raw food touched, like countertops, microwaves, refrigerators and objects like knives, forks, and bowls.
Consumption of food contaminated with Listeria monocytogenes can cause listeriosis, an uncommon but potentially serious disease marked by fever, severe headache, neck stiffness and nausea. Healthy people rarely contract listeriosis, but it can sometimes cause fatal infections in infants, the elderly, and those with weakened immune systems. Listeriosis can also lead to miscarriages and stillbirths in pregnant women.
Consumer Contact: Consumers with questions may contact the company at 1-844-215-DOGS Monday – Friday 8am – 5pm PST (6am – 3pm CST)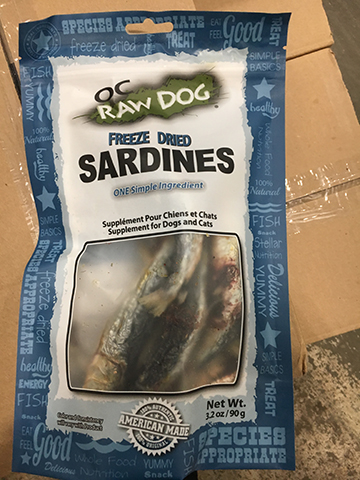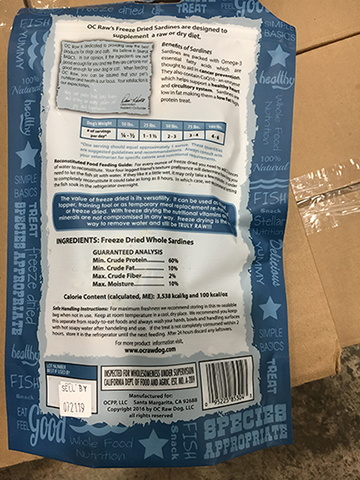 ###
Media Contact
Margaret Hart, MDA Communications
651-201-6131
Margaret.Hart@state.mn.us