DON'T: Transport firewood, you may introduce an invasive pest into a new area. Remember that infested firewood may not show visible symptoms. MDA Certified Firewood Certificate
DO: Buy MDA certified firewood. MDA certified firewood has been treated to state standards and the MDA has verified the firewood safe to move throughout the state. Look for the MDA certified seal.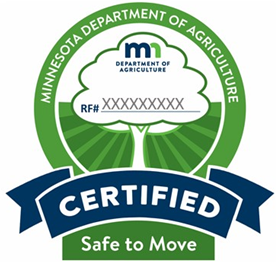 DO: Report firewood violations to MDA. If you have any questions regarding safe to move firewood or suspect a tree has a reportable pest contact the MDA's Arrest the Pest at Arrest.the.Pest@state.mn.us or 888-545-6684.
It's the Law
It is illegal to transport hardwood firewood out of Minnesota quarantined counties unless it is MDA certified firewood. Moving uncertified hardwood firewood out of quarantine counties is illegal and is punishable up to a $7,500 fine per violation per day.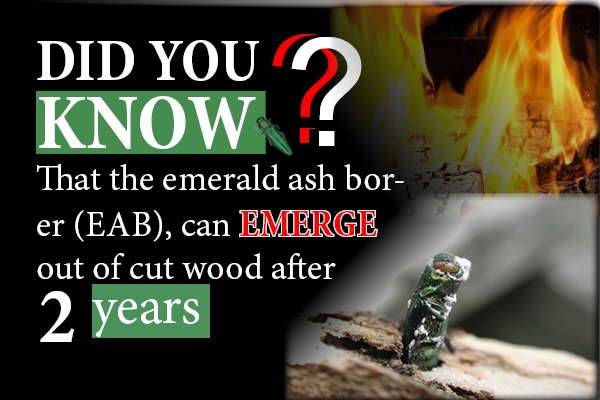 This video was produced with the collaboration of the faculty and students of Art Institutes International and McNally Smith College of Music, with technical assistance provided by MDA, DNR, U of M  Extension and with funding from USDA
Information for Firewood Industry
Be aware of the current regulations and quarantines surrounding firewood movement.
If you buy sell packaged or in bulk firewood, make sure it is labeled with harvest location by county or counties and state on each label or wrapper and for bulk on each invoice or receipt. Learn more on selling and labeling firewood.
Know which counties are quarantined for Emerald Ash Borer, and that hardwood firewood cannot move out of these counties without restrictions, including a signed compliance agreement.
Know there are restrictions on the movement of hardwood firewood into and within the state of Minnesota, because of Thousand Canker Disease of Walnut.
Agreements called Compliance Agreement are available from the Minnesota Department of Agriculture that will allow the movement of hardwood firewood within and into Minnesota.
Be aware that if you violate the law you may be fined up to $7,500 per violation, per day.
---