If you carry firewood from one location to another, you may be introducing invasive insect species and tree pests.
Invasive species and tree diseases can devastate our forests!
Here's how you can protect our forests
Don't transport firewood. Rather than bringing firewood to your campground or cabin, buy locally grown firewood at the campground or in the town you'll be visiting.
Buy only the amount you need for your trip and burn it all. Firewood can harbor invasive insect species and tree pests.  If you leave any firewood behind or take it home, you could be spreading these tree pests.
Buy MDA certified firewood. This firewood is sold from a kiln that has been certified by MDA to treat for emerald ash borer based on national standards. This wood is safe to move throughout the country without being or becoming infested.
Firewood may harbor invasive insects and disease pathogens that can harm our trees and forests.
Emerald ash borer is a non-native insect that has killed millions of ash trees since 2002 when it was accidentally introduced into Michigan from China. This invasive insect is spreading to other states and Canadian provinces due to the movement of infested firewood and nursery stock. Emerald ash borer has been found in Minnesota and firewood could further spread this destructive pest across the state.
Gypsy moth is among America's most destructive tree pests. The moths have caused millions of dollars of damage to forests in eastern states and now threaten Minnesota forests. Gypsy moth eggs can be transported on firewood.
Oak wilt is a disease that kills large numbers of oak trees in Minnesota every year. Oak wilt can be spread by insects that carry the fungal spores from infected firewood to healthy trees.
Dutch elm disease has devastated our elm population, and continues to kill more elms every year. It can be spread when insects carrying the fungal spores travel from infected firewood to healthy trees.
The Sirex woodwasp feeds primarily on pines. Injury results from larval feeding and a toxic mucus and fungus injected into the tree when eggs are laid. Infestations have been documented causing up to 80 percent tree mortality.
The Asian longhorned beetle, a threat to hardwood trees (e.g., maples, birch, elm and ash), has been detected and quarantined in New York, New Jersey and Ontario, where eradication efforts are underway. It was also detected in Illinois, but was eradicated.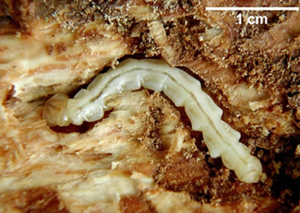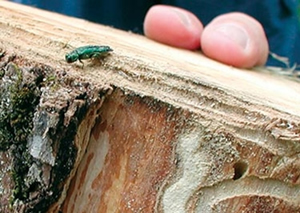 To find out about firewood availability in the area you plan to visit, contact the campground you'll be visiting. For questions about invasive species or firewood issues, call –
Minnesota Department of Agriculture - Plant Protection Division  (651-201-6020)
Arrest the Pest Hotline -888-545-6684 or Arrest.the.Pest@state.mn.us
USDA  Animal & Plant Health Inspections Service – Plant Protection and Quarantine Section- 612-725-1722
Minnesota Department of Natural Resources Information Center- 888-646-6367